"You could see the pain when he (Joe Ralls) came off at full-time but that will subside tonight when he realises he's scored his first hat-trick for many years here," Neil Warnock said.
"The thing about Ralls is he's the easiest player to criticise from the fans, but he never hides, he always wants the ball even when he's not having a good time.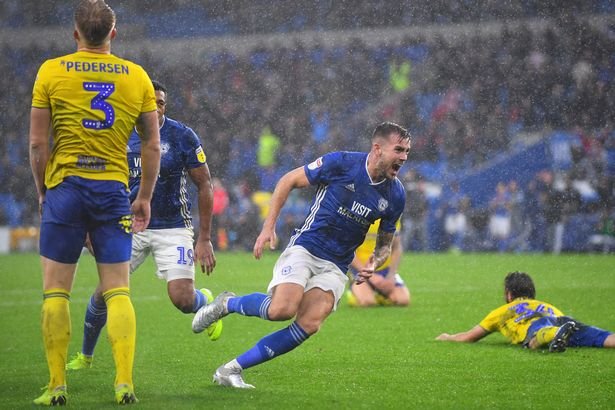 Joe Ralls wheels away after his second goal
"It takes a lot of courage to play like he does so it's all credit to him when he has a day like today. I hope he really enjoys the weekend.
"It is one of the best wins since I have been at the club, under the circumstances. You could see how nervous the players were.
"We had to put a performance on for the fans and we did. They stayed and saluted us even though they must have been wet through.
"They knew how bad they were at Swansea. The only way to get the fans back in favour was to show how much it means to us and we did that."
https://www.skysports.com/watch/video/sports/football/teams/cardiff-city/11852295/cardiff-4-2-birmingham
"It was a game with a little bit of everything, a lot of emotion, a lot of intensity," Pep Clotet said.
"For us, we feel we leave Cardiff without receiving what we deserve. I think the big difference between both teams was the way Cardiff had all the luck when it comes to transforming those chances - and we didn't.
"We knew it was a very tough place, it was a very difficult game for us because it's very easy to get sucked into Cardiff's football and make it very difficult for yourself.
"But I think the players in the first half started very well and put out the football we wanted and created a lot of chances - in total 25 shots on goal - and we still only managed to score two goals.
"It's a platform for us to understand we need to make sure we put the game to bed as soon as we can. That's the reality.
"As soon as Cardiff had the opportunity to get back into the game on that penalty, they took it.
"That was probably the difference, they took all the opportunities they had to get back into the game and for us it was hard work because we had to build a lot to make chances.
"But the first half that I saw is the way I want Birmingham City to play."
Asked about the penalty and referee Andrew Madley's overall display he said: "The fourth official told us in the game it was a pull in the box. It was difficult to for me to see if the evidence in there.
"We are in a position the only thing we can do is carry on with any decision he takes and be prepared.
"I was less comfortable with the fact I wanted our team to be able to transform into more goals the chances that we had.
"Obviously I think being a referee is a very difficult game, the only thing we need to demand from them is every decision we make is very, very clear because every decision changes games and changes results."