Additional highlights here from Sky Sports
Comments from Neil Warnock courtesy of WalesOnline
What did you make of the game?

"We always make it a bit interesting that's why TV love us. There's never a dull game while we're involved, is there? We haven't played as well as we could tonight. We know that, but it was all about getting the result.

"Playing last on a Saturday at 7.45 at night... wow. If I retired I would never come and watch a match at 7:45pm on a Saturday night. So this might be my first and last."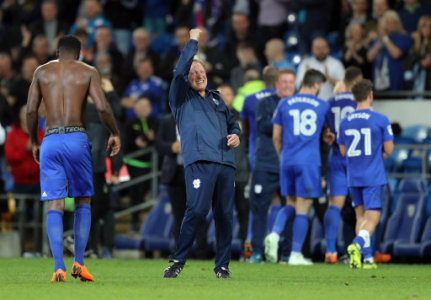 It's unlike Cardiff to waste a few good chances?

"Yeah, Ken's had a great chance on his left foot and he did everything right. But having said that Morrison should've had a hat-trick on his own in the first half. I said at half time 'thanks for making it interesting Moz'.

"Hopefully we'll get our share of luck in the next few games because I didn't see much going our way tonight.

"I was disappointed in the referee tonight, I thought he had a poor game. The elbow by Fox on Paterson is a disgrace, I'm sure they'll look at it and ban him because it's horrendous and he couldn't see it.

"I don't understand why last night they (Fulham) had a Premier League referee and we have a lad who, three weeks ago, gave the softest penalty against Marko for Birmingham. And then Morrison was mauled down three times today and he didn't give a penalty! It defeats me."

How about Aron Gunnarsson's performance?

"I thought all three midfielders were poor in the first 20 minutes but that was because we were too deep as a back four. The gaps were too big, so when the centre halves came forward 20 yards we were a lot better.

"We dominated from that moment on.

"Second half we were on top, but obviously their goal gave us a bit of a jolt. They were playing with freedom, they've got nothing at stake but all credit to the boys again, they don't know when they're beat.

"Goodness knows what Fulham be must thinking, 22 games unbeaten and we're still there like a rash getting results. They're an amazing group of players, I'm ever so proud of them."

Did you watch Fulham last night?

"Course I did, yeah. How did he miss that header?!

"That's life. I thought at half time (Fulham) would win."

And Ralls?

"He was super but it was a gamble. I was tempted, because Bryson can't play Tuesday, to have Ralls on the bench tonight and start him Tuesday.

"But, like Blacky (Kevin Blackwell) says, don't worry about the next game just worry about this one — and he's right. He's been on fire in training. We couldn't really not play him, it was just whether he could last the pace.

"He's got an ice pack on it now but he's done well. We've got a few bruises as you would expect."

Bamba didn't start, was he injured?

"I dropped him. I thought we were better off with Bruno (Manga) and Morrison.

"Also he can't play three games in a week at his age. He's be alright for Tuesday. It was an opportunity for him to get a breather because he's done so well recently. Paterson the same, he's had a few knocks so we decided not to risk him."

Cardiff showed fighting spirit to beat a decent Forest side?

"I know we'll be fighting until the end. Whatever limitations we've got, they can't take the team spirit away from us. It's fantastic."

What about the fans?

"I had to give them a big kick up the backside tonight, they were a bit quiet but they rallied and got really loud again and that's what we want.

"We might not get the biggest crowds here but they're the noisiest."

Can you taste promotion now?

"I've been with some great groups and this is on a par with the best ones. They've got that character that my lads have had in the promotion years.

"But in a normal season Fulham would be out of sight with Wolves because they're such a fabulous side. But they've got us scratching at their heels and we will until the end. And if it's not automatic promotion, we'll have a go in the play-offs.

"Wolves have deserved it and Fulham — 22 games unbeaten in the Championship — wow, that takes some doing. All credit to them.

"But we're not going to give in without a fight."

And now a huge game at Derby?

"They asked me (on TV) about Derby and I said 'yeah, weather permitting'. No but that's all water under the bridge now, we've just got to concentrate. They've got some good players and will be desperate for a win.

"I like Derby, they've got a proper football ground and I like Gary (Rowett).

"He'll be disappointed he's not up there with us."
And from the Forest boss
Aitor Karanka: "I think it's a game we could've won 2 or 3-1, but we've lost 2-1 so we've had the best chances to score and conceded two goals from set pieces and it's another game to learn, another game to study. Again a side competing for promotion, we've played at least like them and sometimes better than them.
"For the first goal I've seen we were not aggressive enough at set-pieces, but we know they are strong from set-pieces. This is the kind of things we have to fix for the following season because now we are safe, but the following season we don't want to make the same mistakes."