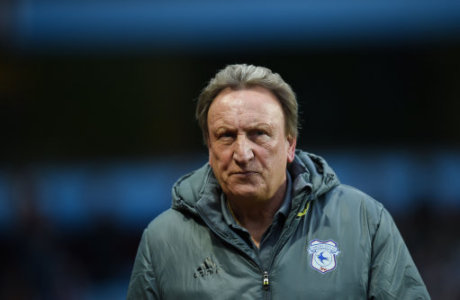 Neil Warnock: "I thought they (the officials) were playing opposites at one stage: there was a corner and he gave a goal-kick, there was a goal-kick and he gave a corner, a free-kick for them when it should have been ours. He was consistently poor: he started off bad and fell away. The applause he got from the fans at the end, I've never heard so much vitriol.
"Apparently Morrison's admitted this, that and the other; well Morrison said to me the kid's dived, and if you watch the video, he never touches him, he goes down like a sack of... It's a wonder it wasn't given really, because theatricals actually got free-kicks throughout the game, so we might have got away with one with the linesman."
Neil Harris: "It's a definite penalty. When you've got 20,000 people in a stadium and the only person who doesn't think it is is the referee: someone's got to be wrong. He got it completely wrong. Sean Morrison's honest enough to say 'I pulled you back and clipped your heels'; you can't do any more than that. It's a foul and changes the game, maybe gives us three points [and leaves Cardiff] down to 10 men so I'm really disappointed.
"Clearly today the four of them [referee and officials] weren't up to it. Steven's a good guy and a good referee; I don't think it was one of his better games. He's honest as well, so if he's got it wrong he'll admit to it."