Manager reaction as Cardiff suffer Boxing Day defeat.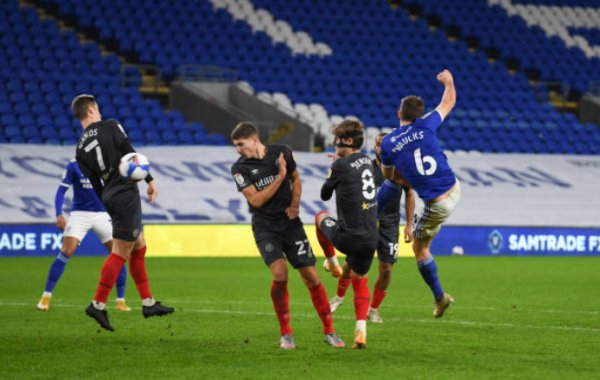 Will Vaulks scores the less spectacular of his two goals
Neil Harris: "For 49 minutes I thought we were bloody excellent. Our discipline without the ball and game plan were spot on. We contained them to next to nothing and we were comfortable in the game. We got a worldie goal from Will Vaulks and then we threw three goals into our own net - I am lost for words, really. The way we are going at the moment we are not going to make the top two. The aim at the start of the season was to make the top six and that's where we want to be.
"It grew last year and we had to close the gap and go past teams. We will go past teams this year, but you can't let teams get away from you. We have to respond against Wycombe on Tuesday and Rotherham on Saturday, because we want to build momentum and consistency. Other than winning four games in five, we haven't had any consistency all season. We have to address that quickly."
Brentford's Thomas Frank: "We were okay in the first half but then they scored a spectacular goal. After that, we moved up to another level. I didn't think they had much in the second half apart from set-pieces. They are strong and always good at set-pieces. Our attitude, hard work and togetherness was bang-on today. We really stepped up in the second half.
"As the players went out for the second half I told them we aren't going to lose the game. We played quicker, took less touches and took the throw-ins faster. We showed a lot of character - we are confident, but humble."