Was Tomlin fouled? Was Flint offside? here's what the two managers thought.
Neil Warnock had little to say about the referee's decision to award Cardiff a free kick in the 87th minute and then seconds later allow the goal scored by Lee Tomlin with the Wednesday keeper pleading that Aden Flint was interfering with play.
It seemed to be a tactic off the training ground that saw Flint doing star jumps in the box in front of the keeper but as you can only be offside at the moment the ball is kicked Flint crouched down at the last moment to expose the poorly positioned keeper and to not be interfering with play at the moment Tomlin struck the ball. The goal has caused a right rumpus on social media about it's validity but crucially for Cardiff it stood.
"I've not looked at it but as long as you're a yard away from the wall I think you can stand where you want nowadays," Warnock said about the incident.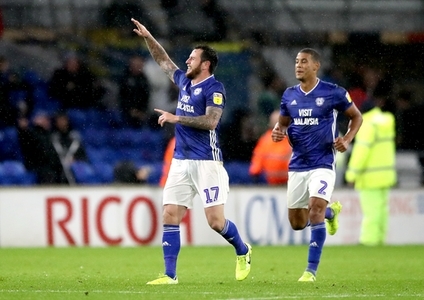 "I said to the lads at half-time I thought we could win it. I thought they were vulnerable and that they'd had a bit of fortune in the first half.
"On another night we could've had a penalty with Flinty having his shirt pulled off, but you don't seem to get them at the minute.
"I thought we could have won it at the end."
Surely Aden Flint was offside and interfering with the play, obstructing keeper Dawson's line of vision by doing jumping jacks behind the wall! Tomlin's late equaliser for Cardiff was allowed to stand. Monk will be fuming #CCFC 1-1 #SWFC full time pic.twitter.com/8YLXjdLt9E

— Jacqui Oatley (@JacquiOatley) October 18, 2019
Meanwhile Garry Monk saw it completely and for a change it wasn't Neil Warnock having a go at the officials
"I'm disappointed because had we conceded a legitimate goal against us I'd have to take that, but I'm told it's not even a foul and one of their players is doing a star jump behind the wall to distract our keeper," said Monk.
"How the officials haven't seen first the foul, but then it's not hard to see a six-foot-five or six-foot-six defender doing a star jump in front of the wall in an offside position, I don't see how you can't see that."
Didn't watch the game last night but absolutely no way this goal should have stood. How did they not see Aden Flint interfering with play here? He's miles offside and a key part of the move? Big error from the officials.pic.twitter.com/IJxg2DUvgz

— Tom Carnduff (@TomC_22) October 19, 2019
"It is what it is. There were a lot of good things in that game and we should have taken our opportunities as well. We should have been walking off that pitch with a win."
"They're a difficult team to play at home," he said, "they've got a really good record here but I just felt the first 55 or 60 minutes we did exactly what I wanted them to do, we didn't allow them to turn it into that physical scrap like we saw in the last 30.
"The reason we were able to do that is we controlled the ball well. We lost that control in the last 30.
"We're playing against a top team, an experienced team and we end up with a point. I'm feeling a bit hard done by but there are plenty of positives to keep moving forward with there."