Fulham's Scott Parker: "I think the way the game panned out tonight was not how I expected, but at the same time, I realised the task ahead of us today. Cardiff were a team wounded from the first leg that came in and had nothing to lose. They put us under an incredible amount of pressure at times and we didn't really put a stamp on our game. We've got ourselves to the Championship play-off final and it's up for grabs.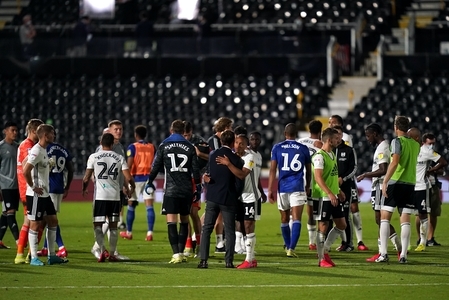 "That was our 48th game tonight and I told the players to not lose sight of what we've done. We live in a world where you can quite easily lose sight of achievements and I sense a little bit of disappointment. We've got a massive game coming up on Tuesday. It's going to be a totally different game from what we've seen tonight. We need to stay bright, we need to stay positive.
"We all know it's a coin toss. What we need to understand is that we need to turn up, we need to be professional, we need to understand what we are good at, we need to understand how we play and how we put a stamp on the game."
Cardiff's Neil Harris: "It's not just tonight [that I'm proud]. Since the moment I came into the building, the performances, the way they've improved, the way they've taken on board what we want, the hours on end learning on TV screens, on the training pitch to get us to where we are tonight.
"To come and win 2-1 at Fulham in the scenario we were in after losing 2-0 at home, I can't be any prouder. The players have been class for me. We've come up against a very talented Fulham side tonight and there are two very good sides in the final.
"I'm at a club that craves top six football in the Championship and Premier League football. We feel like the capital city of Wales should have a team in the Premier League and we have to earn the right to get there. However proud I am, I'm gutted that we haven't got through but I've said to the players that they have to be so proud of what they've achieved and we have to be even better next year."