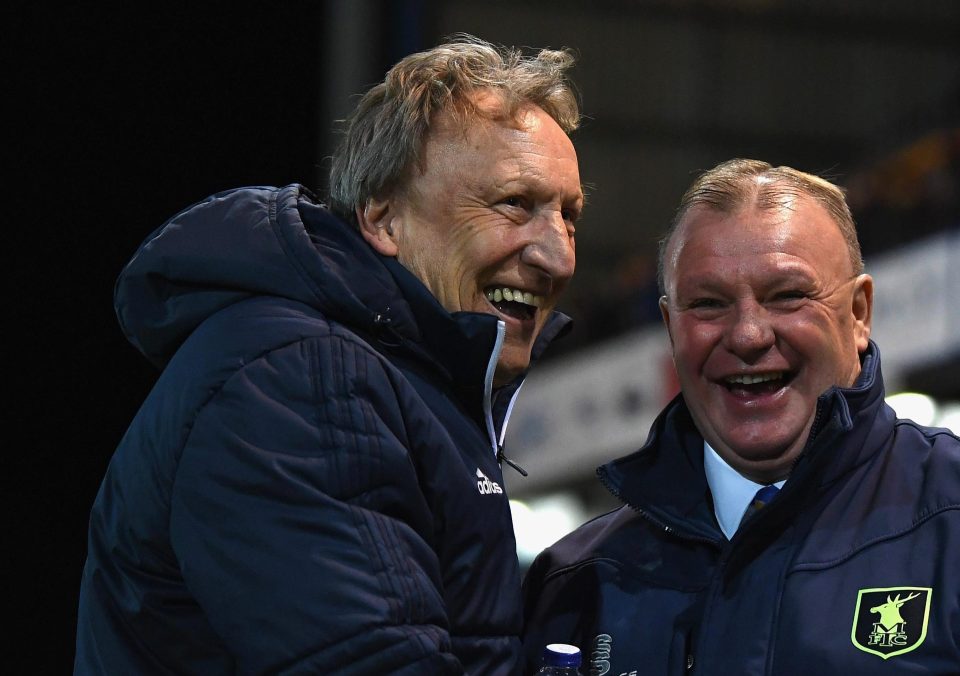 Steve Evans:
"We've looked at it back, the first goal's a clear foul and how they've not had a red card in the first half is beyond me. If that's not a red card, we give the game up.
"The first goal shouldn't stand but I'm proud of the players. It was a proper cup tie. They get a bit of good fortune to go in front; it's a scuffed throw-in that lands at the man's feet and they've got good movement thereafter.
"I think when you look at the goal as well, it's a clear push by big [Sean] Morrison who puts it back in the box.
"Why it's not a red card, I know I keep going on about it but they're game-changing decisions.
"He's straight over the ball. We took his excuse during the game when he got word back to his fourth that it was a slip. Slip? That's not a slip; that's just high, late and over the ball.
"It's a red card all day. That's a game changer, it's a cup tie changer. We're out the cup and we have to live by it.
"I think it was harsh to be 1-1 at half-time, we should've been in front. We dominated it. We were dominating the second half in terms of territorially and with the ball and the breaking.
"They go 2-1 in front and it's the quick goal, the third one, that kills the cup tie.
"In the second period when they get the two quick goals, that allows them to get their good players' foot on the ball. Neil Warnock can say what he likes, it's a proper cup tie at 1-1.
"I think he's fortunate to be 1-1, fortunate to have 11 men and they're the decisions you need sometimes in the cup. We spoke about people just doing their jobs; Cardiff players have just done their jobs.
"The supporters were incredible, they were fantastic. Neil's words to me at the kick-off were 'this is a real cup tie atmosphere'.
"As opposed to at Cardiff where – am I allowed to say it was like a morgue? – well, it was like a morgue! There was no noise.
"It was a fantastic atmosphere, the people of Mansfield turned out and they deserve better tonight.
"They deserve better and I think when we go away and look at the footage, we'll be proud of our players."
Neil Warnock:
"I decided to put out a virtual first team and we got our rewards."
"I wasn't too disappointed at half-time, we were just a little bit lethargic. We had one or two words, I didn't raise my voice to them.
"I decided to put Hoilett through the middle as I thought we just needed that spark down there. It was a matter of changing a few things and getting the right result, and we did.
"It was hard, we were playing against a team who had lost once in 20-odd games, it doesn't matter what division they're in. And the way they play, you're up against it every minute. You've got to play against these teams and compete and I thought in the second half we were super.
"Also, a big thank you to the fans tonight, that's the coldest I have ever known it watching a game and to come all this way, well, great tribute to them and I hope they all get tickets for the City game."