Sheffield Wednesday's assistant manager Jamie Smith: "It's a massive performance and a massive win for us. We said to the players that we needed three points today, it wasn't a must-win, but we needed the three points. The lads put all the work in, the effort and got their just rewards.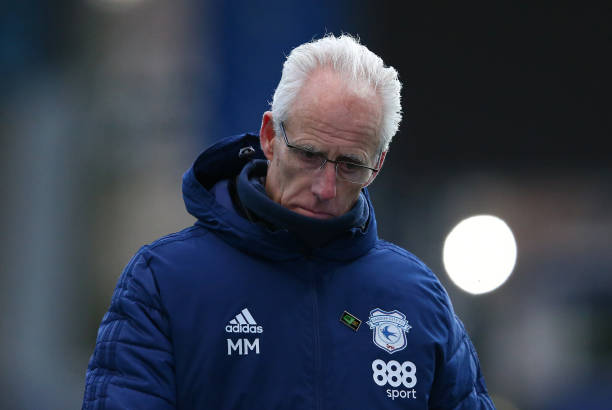 "With technology nowadays, he [Darren Moore] was in contact with the staff and the players right through really. He was on the phone to the analysts at half-time as well, in the dressing room with the lads so he's in constant contact.
"There's a lot of quality in the dressing room. They've shown it since we've been here and on the pitch today, you saw it yourselves.
"There were some great goals, some great finishes. But again, we've seen that in training, so it's not a surprise to us.
"[Against QPR] it's the same again. Back to the training ground, work hard, belief, positivity and we go again. It's very achievable [to avoid relegation]. We're always positive, we'll reflect on the game and get ready for the next one."
Cardiff's Mick McCarthy: "From the first goal, which is not like us to concede from a corner, we seem to have got dragged about and played out of position. We've not really done our jobs as well as we have done in the past and it's cost us.
"With the second goal, I'm not sure what we could have done about that. Maybe we could have stopped it at source… It was an amazing goal, I almost have to applaud it myself, that's how good it was. As much as it makes me feel sick, I almost have to applaud it.
"The third goal, it's a great free-kick and the 'keeper has no chance. The free-kick we give away is the disappointing part.
"I felt like we had a good start to the second half, we had it blocked on the line, and we were punished because we were pressing to get a goal back. we've been done on the break twice, which is disappointing. In normal circumstances, I don't think that happens, but nevertheless, it was still great quality by Sheffield Wednesday.
"They punished us harshly and it was a humbling lesson for us.
"It doesn't feel like it [being able to make the play-offs] when you've had a slapping like we have tonight. We'll just keep going and keep trying to pick up points. There's nothing I can do about this, we have to repair the damage emotionally as much as anything and then get ready for Saturday."