Neil Harris
"We were disappointed not to win it. In the first half we were poor, though Alex Smithies made some really good saves to keep us in the game so that we went in 1-0 at the end of the first half.
"I said to the team at half-time that though we'd not played as well as we wanted, the goal that we'd conceded came from a set-piece and poor marking by us.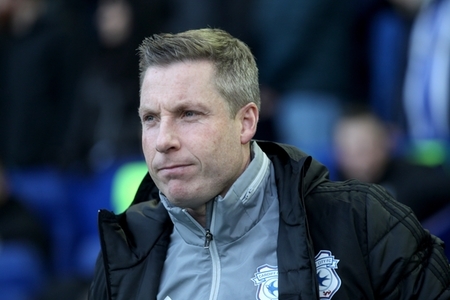 "We've conceded 31 goals away from home this season, and in the Championship when you go behind it's hard to come back and win it with two goals.
"Keeping clean sheets is key, it gives you that belief that you can go on and get the winner. We want to be starting games better and improving our management of the game.
"Coming out for the second half we knew that we had to get back to playing in the way that our supporters love to see," he explained. "We played in the derby last week in the same manner, to be competitive without the ball and to give them no chances. We were in the right areas and threatened them in the second half.
"Following the interval it was all about us. We increased the intensity and stopped them from getting forward, put the ball in the right areas and always challenged for the first ball.
"We put the ball into their area and forced the set pieces well, and ultimately it paid off with the equaliser.
Was Lee Tomlin fouled?
"At the time I thought it was a penalty. When you've got their player saying 'We got away with that one, the ref's had a disaster there', you know it's a penalty.
"I spoke to the referee straight after the game and he said he thought Lee left his leg in there, so contact was our player's fault. So it's not up to Lee to get his legs out of the way - if there's contact, it's a foul."
Birmingham's Pep Clotet:
"The team made the perfect start and we were on top and on the front foot as we like to play at home. After scoring the goal, Jude had another clear chance and Bela hit the post and we had other chances. In the first half we had 11 chances to their one. Unfortunately, we didn't score the second goal that would have put it to bed. We know against a team like Cardiff at their level with a good squad, unless you put your chances in, they can make you pay."
We knew that after half-time they would come at us and it would turn into a set-piece game and they made it very difficult for us. The second-half it was a really tough game because every time they had a chance, they put the ball into the box. Because we were defending the box we couldn't press, and it turned out to be a set-play game. We tried and we had a few counter-attacks and Jukey forced the Cardiff 'keeper into making a very good save. We defended the box as best we could but of course we conceded the goal. The second-half turned into an ugly game. Cardiff are a physical side and I think they won the midfield battle in the middle of the park. We got a little bit better when Gary Gardner got out onto the pitch."
And on Cardiff's penalty claim.
"I don't think it was a penalty or sending off. The ref was close, and the linesman was there, and they saw it very clearly. Tomlin is a very smart player and he will use all of his resources to try to benefit himself in every situation. He complained for the penalty when he had no other options in that play, and I think it would have been a little bit soft. I agree with the referee not to give it. I haven't seen it back, for me it is very difficult to comment on the referees because I always back them. I back them when we have a penalty against, and I back them now."