Full set of images from Jon Candy
https://www.flickr.com/photos/joncandy/sets/72157665168534344
Cardiff manager Russell Slade said: "We left it late, if I had any hair, it would all be gone.
"Our chances are still slim, but probably not as slim as they were before a ball was kicked.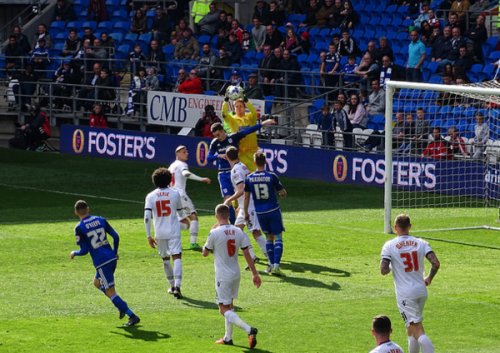 "The gap is now four points, and we have a cup final next weekend. We need to dust ourselves down and be ready for it.
"We did everything we possibly could as a management team, we threw Sean Morrison up there and Kadeem Harris - so we had a bit more thrust.
"The fans stuck with us which was good, and we produced an exciting finale. We only have one home game left to go and we're proud of our home record with only two defeats.
"We have to prepare for the Sheffield Wednesday game as normal, but we will do some work on the opposition and see what bodies we have available.
"I've always said that if we can take it to the last game of the season, at home, then we would take that."
Bolton remain rock bottom of the table and caretaker manager Jimmy Phillips has urged club bosses to appoint a permanent replacement for Neil Lennon.
Phillips said: "The sending off made it difficult, but it's great that we have come into an away game and got the first goal. It was a fantastic free-kick from Zach Clough.
"I thought we kept a good disciplined shape when we were down to 10 men. We then had three good opportunities - the best of the half - but we didn't manage to stick one in the net.
"The penalty was a cruel blow for Tyler Garrett because he had a good debut. "I didn't actually see the incident and I haven't seen a replay - but Niall was 30 yards from Cardiff's goal, rather than our goal, and he need not have been committing himself in that position.
"I feel it's important the club appoints a new manager soon. Whoever does get the job has to decide which players need replacing. The sooner we start that process, the better."