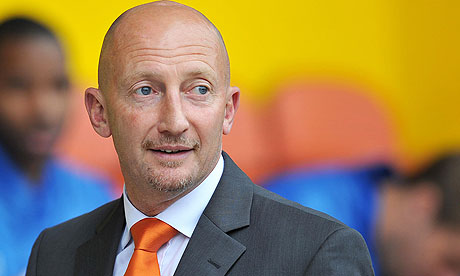 Ian Holloway was speaking ahead of his sides trip to Cardiff and on the back on a home defeat to Huddersfield.
"I don't make knee-jerk reactions. I look at what the lads have done in training, I will look at the team I think Cardiff will play, and I'll pick my side based on that.
"When I was younger, I might have made knee-jerk reactions, but I don't get flustered anymore. I'll pick who I think will be the best team to start, and then the best team to finish, to give Cardiff problems.
"Last season we went there and we had a very combative midfielder line-up.
"I played Chris Basham in there and he did his job very well, but it took Kevin Phillips coming off the bench to get us the win.
"So it's not just about looking at the starting eleven, but also at the options from the bench."
"When you're an inexperienced manager you might be volatile in your reaction to defeats," he said. "But what you have to be is more analytical, and see where you think you can improve.
"Maybe I should have spotted what was going wrong more quickly during the game.
"I was horrified when I watched the first half of the Huddersfield game back.
"They just kept hitting the long ball to two-on-two at the back. I did spot it, but we didn't suss it on the pitch.
"They have had a bit of a lesson this week, I need them to spot that during the game and change it."
And he thinks it'll be wierd facing a Bluebirds team in red..
"What better chance than to go away from home against Cardiff and take them on in their wonderful stadium,"
he said.
"I have to convince my lads that no matter what the conditions are like, we are going pass, move and try to hurt their back four. That's what football's all about for me.
"No one has spent has much as them this summer, have they?
"Hopefully that will stand them in good stead, but not this weekend.
"We'll have to try to impose our game on them. We did it last year there, hopefully we can again.
"We have to go to Cardiff and take them on in front of their crowd.
"It's going to be weird, with them now in red. They've always been Blue, and their name is The Bluebirds, and now it's not.
"It's all a bit weird, isn't it?
"We know what's at stake, three points towards our overall total. I know how tough it's going to be, they'll have a partisan crowd like they always do.
"Their fans are really passionate."
Cardiff v Blackpool
Saturday 3:00pm.