Cardiff City are still unbeaten under Mick McCarthy, it's now eleven matches without defeat, but, tonight, for the second successive away match, we were scrappy, uninspired and somewhat off the pace. However, just as at Middlesbrough, we scrapped our way to a draw – this time a goalless one at a Huddersfield team with just one win so far this year.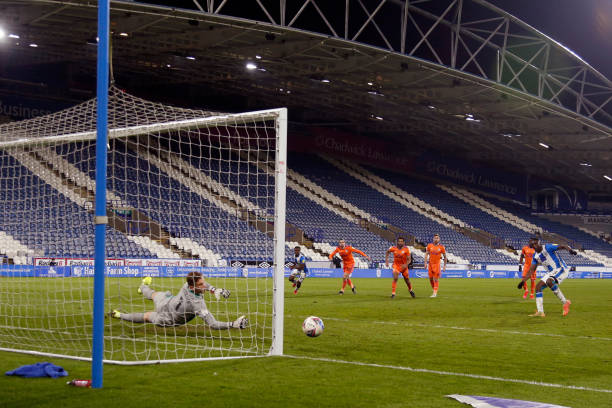 I didn't think we were quite as poor as we were at Middlesbrough, but the irony was that we were more fortunate – we had to be when you consider that the home team missed a penalty and former City striker Frazier Campbell missed the best chance of the game shortly afterwards.
One superb effort by Will Vaulks apart, City were, for a second consecutive away game, punchless up front – the BBC's stats say that we had eight goal attempts with three of them on target, but I'm struggling to remember even a half of them.
https://mauveandyellowarmy.net/
I realise that it's a harsh judgement when City have done so well lately, but, if we are really considered to be serious Play Off candidates now, then we need to be doing better than drawing on the grounds of out of form sides that are too close to the bottom of the table for comfort.
The counter argument to that is that, as Mick McCarthy has just said in his post match interview, if you can't win, make sure you don't lose and seeing that we came closer to losing this game than we did to winning it, then a point might be regarded as a good outcome.
Mick McCarthy's selection for what was his one thousandth game as a manager was made that bit harder because of an injury which kept Perry Ng out and, with our manager adamant in his opinion that he doesn't regard Leandro Bacuna as a right back, it wasn't a surprise that the two goal man from midweek wasn't the player who McCarthy turned to for a replacement for Ng.
Instead, Tom Sang, who had played in an FA Cup game last season under Neil Harris, came in for a league debut and gave an assured and competent showing which marked him out as a City plus point on the night.
There were three other changes, with Joe Ralls coming in for Marlon Pack, Harry Wilson for Bacuna and Josh Murphy for Sheyi Ojo.
A pretty dull first half had little to enliven it, City started quickly and Sean Morrison came fairly close to adding to his recent goal haul when home goalkeeper Ryan Schofield got down well to foil the City skipper.
Up the other end, City were grateful to Dillon Phillips for a diving save from a free kick by Leandro's brother Juhnino Bacuna, but, although Huddersfield weaved some pretty patterns in midfield, they didn't have any real goal threat.
Aden Flint, now more than a year without a goal, volleyed against the crossbar from eight yards after Harry Wilson's shot was diverted into his path, but was ruled offside (it looked a marginal decision of the replays of the incident).
The only legitimate near miss for us in the first period came when Vaulks produced a vicious volleyed shot from twenty odd yards that, to quote a good Cardiff City podcast which has started up in recent weeks, had a bit of Swazz on it, but, in this case, the swerve went slightly the wrong way because it came towards the keeper, who was able to make a good diving save.
That really was the total of worthwhile goal attempts before half time, but Huddersfield were just edging it even though a level score line was about right.
The early stages of the second half offered little evidence that City could go on to win the game and, if anything, Huddersfield were more confident than they had been in the first half.
Not that any of this suggested the deadlock was going to be broken, but the home side stirred themselves and City had a ten minute spell where they could easily have lost the game.
The first of what three heart in mouth moments for City fans came when Curtis Nelson brought down Aaron Ross in the area for what I thought at first was a contentious decision, but further viewing showed that ref Tim Robinson had got his decision right – it was a clear penalty.
However former Arsenal striker Yaya Sanogo dragged his shot wide on his first start for the Terriers to maintain a couple of records for the season, one for each team.
For Huddersfield, it was the third time out of three they had missed the target from the penalty spot, while for City three of the penalties they've faced have been saved (Alex Smithies from Sam Vokes at Stoke and Dillon Phillips two saves within a couple of minutes against Preston recently) and now we have this miss (Phillips went the right way for it) which means we've still not had a penalty scored against us this season.
Sluggish City were soon in trouble again as they were caught out at the back and home left wing back, Avila was left with a clear run in on goal, but a poor touch as he entered the penalty area gave Phillips to just to spread himself and divert the shot when it came wide for a corner.
Talking of dead ball situations, City were not their usual dominant selves when it came to aerial challenges at either end of the pitch – a porous home defence with the second worst goals against record in the division were consistently able to get their head to free kicks, corners and long throws and Sanago was able to consistently win headers from long balls by the home keeper and defence all evening.
Huddersfield's aerial success was emphasised when Naby Sarr was unchallenged to head into the path of Campbell who was also in splendid isolation as he volleyed over from just outside the six yard box.
All of these incidents came in the final quarter of the game and, just as at Middlesbrough, my thoughts were that I wanted the final whistle to go straight away because a draw was the best we were going to get from the game.
I've mentioned before that our two in central midfield policy had generally worked pretty well in recent games, especially when you consider that we were often up against an extra man in that area, but it was a tough night for Ralls and Vaulks as Huddersfield were often able to create an overload in the middle of the park by dragging the two City men into wide areas.
This was a game where the two attackers in support of Keiffer Moore plan did not work. I've this theory that this is a template in existence for City manager whereby Murphy has to come off after an hour or so no matter how he is playing, but this was a night on which such a template, if it exists, would have been designed – a cold night, away from home with our erratic big money signing producing next to nothing.
As at Middlesbrough, Wilson stayed on the pitch for a fair while longer than Murphy, which was fair enough given that he was slightly more of a threat, but, in truth, this was another of those first half of the season showings by the Liverpool loanee which asked questions of both the ability of his team mates to bring him into the game and also his inability to take a game by the scruff of the neck in the manner you might expect someone of his ability to do at this level.
When Wilson was withdrawn in the eighty sixth minute, it was to bring on Marlon Pack which suggested one of two things -either Mick McCarthy was settling for a draw with a defensive looking change or he was doing something about the disparity in central midfield numbers which had been hurting City all night.
It may just have been a coincidence, but, in the event, Pack's introduction saw City stir themselves in an attacking sense as they enjoyed the better of the remaining seven minutes or so, despite Ojo, Murphy's replacement, remaining something of a periphery figure. Sang had a shot deflected not too far wide and Morrison might have scored if he'd been able to get more purchase on an overhead kick which did not trouble Schofield too much, but the keeper had more problems dealing with a cross that was high enough to draw the comment that it had snow on it went it came down and was grateful to more vigilant defending from his team mates as the ball was hooked away from Ojo before he could bring it under control.
Mention of substitutions, reminds me that, after the blow of losing Joe Bennett to a cruciate knee ligament injury which normally means nine months, at least, out of the game, his replacement Joel Bagan, who had started the game well, had to be replaced on thirty eight minutes after the youngster suffered a dislocated shoulder.
Now, to me, a dislocated shoulder brings back memories of that fine Welsh rugby winger Ieuan Evans who had a spell during his career where It seemed like the slightest knock to his shoulder would force it to pop put again and he'd miss weeks more rugby, but, hopefully, treatment of such injuries has improved in the last thirty or so years and Bagan's injury will not prove to be too serious because we are really down to the bare bones now in the left back/left wing back position – Ciaron Brown came on for a league debut tonight and did well enough, but, for me, he is more of a centreback and it is not going to need too much more misfortune in that position for Mick McCarthy to be forced to use someone like Leandro Bacuna in that position, despite his own misgivings about the player's suitability for such a role.
City now have the luxury of eight days without a game in which they can work on the training pitch and hopefully get one or two players fit again. However, by the time they play next, the task of finishing in the top six at the end of the season could look a lot more testing by then. Firstly, all of our rivals for fifth or sixth position (realistically, anything higher should be beyond is) are playing today with what are fixtures which give them a good chance of picking up a win – for example, Barnsley are a home to Birmingham, Bristol City entertain QPR, Millwall are home to Blackburn who are in a terrible run currently, Bournemouth are the latest team to try and make Preston's dodgy home record look even worse, Reading are home to last but one Sheffield Wednesday and Stoke have bottom club Wycombe as visitors – Middlesbrough's visit to Swansea looks a tough assignment for Neil Warnock's team, but they did go to Norwich and get a draw quite recently.
Furthermore, Barnsley play their game in hand over us next Tuesday when Derby, so poor at Cardiff City Stadium a few days ago, are the visitors, so with the Yorkshire side in great form with six straight wins, there has to be a good chance that we'll be six points behind them going into a testing week of fixtures in which we'll face Watford, Stoke and Swansea before the international break – that's why it looks to me very much like a case of two points dropped, rather than one gained, tomight.
Given what happened in his first ten matches in charge, the announcement yesterday that Mick McCarthy and his assistant Terry Connor had both signed two year contracts with the club hardly comes as a surprise.
Of course, the original plan was to give McCarthy until the end of the season and then take stock of the situation, but it was also mentioned at the time of his appointment that the task he had been charged with was to avoid relegation after that fate had begun to look possible as we lurched from defeat to defeat In Neil Harris' final days at the club.
My initial reaction on learning of the appointment of Mick McCarthy was an angry one, but a reminder of his overall management record, not just the last five years or so of it, calmed me down somewhat although I still had concerns that he would represent a continuation of the style of football which we had seen under Messrs Slade, Warnock and Harris if he was appointed on a longer term basis.
Those doubts still exist to a degree, but, in all honesty, how can you argue against a record which saw City reach the magic fifty points (the traditional number seen as being sufficient to avoid relegation from the Championship) with thirteen games still to be played and twenty four points gained from a possible thirty?
It'll be interesting to see what sort of team building takes place in the summer if this season ends with what has to be its most likely outcome – confirmation of another season in the Championship. During the early days of Mick McCarthy's reign, I was thinking of what we'd need in central midfield in particular, but there were also questions to be asked in other areas of the pitch. However, stats such as twenty three goals scored and only seven conceded in ten matches rather tell the story that things are going very well at either end of the pitch.
Also, although there are not the readily available stats to confirm an impression that there are in other areas of the pitch, I must admit that our two man central midfield is doing better than I ever thought it would against opponents who often have an extra man in that area – our passing statistics could still do with improving, but, as throughout the rest of the team, Mick McCarthy has been able to improve matters with methods which appear quite simple, albeit with some shrewd tactical tweaks.
Clearly, our new manager will not be able to maintain the sort of results we've seen so far in the long term, but, by modern standards, he's someone who stays at clubs (in the UK at least!) for a long time – he's not going to have a fortune to spend here, but you'd like to think that he won't have to operate with the sort of restrictions he had at Ipswich, so will Mick McCarthy be able to show that he is still a top end Championship manager?
Finally, it's now just a few days to the fiftieth anniversary of our win over Real Madrid in the European Cup Winners Cup Quarter Final First Leg in March 1971. To commemorate that anniversary, I've written a book called Real Madrid and all that – details of which can be found below;-