https://mauveandyellowarmy.net/
Huddersfield Town are almost in the Nottingham Forest class when it comes to sides that Cardiff City like to play against. Someone looking for reasons why City would win Wednesday night's match at whatever I know as the McAlpine Stadium is called these days could point to growing confidence gained from a win over Championship leaders West Brom, some fine attacking play in a losing FA game with Reading and a hard fought win at Luton on Saturday as grounds for their confidence, but overshadowing this has to be the simple fact that, more often than not, we beat Huddersfield these days.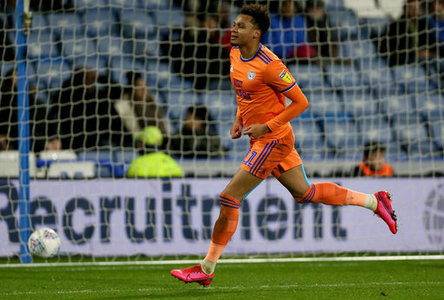 Last season's two Premier League goalless draws between the clubs were riches indeed for Huddersfield by the standards of the recent history of the fixture. However, by following up our 2-1 home win in August with a win as comprehensive as the 3-0 victory margin suggests, City made it eight wins in twelve, unbeaten, games with the Yorkshire club which pipped them for the First Division title by the narrowest of margins nearly a century ago.
The win at Luton was very welcome because it was the sort of result from a not too clever performance that we're going to need if we are going to maintain a lasting top six challenge, but this was something different again – this was Cardiff City winning with, dare I say it, a bit of style and that is something that I've not been able to say, and was not expecting to be able to say, all season long!
In the first half especially, City were able to break with a pace and control which the home side couldn't live with. This wasn't City attacking with the usual bludgeon, this was them using what might well have been a rapier!
With Neil Harris perhaps surprisingly opting for an unchanged team, this meant another chance for Josh Murphy to make an impact away from home – something which he has, largely, conspicuously failed to during his time at Cardiff.
Tonight Murphy scored the kind of goal that I've always thought he could and should do on a fairly regular basis in away games – particularly in this division. He has the pace to get clear of a flat back four pushing high up the pitch in a manner you associate more with sides playing at home, but, off hand, I can't remember him doing this at all in an away game since he's been here.
Of course, it's a two way thing required for this sort of situation to arise, you've got to have that pace and correct timing of the run on the part of one player and the vision and technique to get the pass absolutely right on the part of another.
For much of Murphy's time with City, we've not seen much to suggest that we had that creator who could open up a defence with what looks a simple pass, yet proves to be beyond the capability of most.
Thankfully, City have such a player now. In fact, they've always had him, but it is only recently that he has had a more sympathetic manager to work with who trusts him. To be fair, Lee Tomlin had made it easy for his previous manager at Cardiff not to trust him at times, but the word was that he had really put a big effort in to get fit over the course of last summer and there were signs that this was the case in the autumn months under Neil Warnock's management, but it needed Neil Harris' appointment to provide the genuine proof that Tomlin was back to the sort of levels which made him such a fine player at this level while with Peterborough and Middlesbrough.
So, when Tomlin got the ball around the halfway line tonight with Huddersfield's back line vulnerable to a runner through their middle, there was always the chance that he'd come up with something which sliced the defence apart. It was close as to whether Murphy was offside, but there was one defender a little out of step with his colleagues and so the City man was probably onside as he raced clear and dinked a lovely finish over advancing keeper Lossl.
The goal, which also came after some patient and accurate passing by others in the side of a kind you'd never have associated with Warnock's Cardiff, was scored in the twenty eighth minute. Neil Harris admitted afterwards that it was probably a little against the run of play after City had mostly been defending, albeit quite comfortably, with a smart save by Alex Smithies from Leandro's brother, Juninho Bacuna being probably the home team's most dangerous moment.
Having got ahead though, City took control of the game and soon added a second with a goal from a corner. This wasn't the close range headed powered in by a centreback that you would expect from Cardiff, this was a goal in keeping with the performance – it had a bit of class to it!
My first reaction to seeing the corner Marlon Pack played in was a bit of a groan because it looked like something that the defender doing the near post job on the edge of the six yard box would easily deal with. However, what I hadn't realised was that this was a planned routine whereby Will Vaulks would look to get a shot away – this he did, with a lovely strike across Lossl from about eight yards. The Radio Wales commentator got it right when he compared the goal to the near post balls from corners rolled to Teddy Sheringham to strike during his Spurs days, but I doubt if the England man ever hit one as sweetly as City's Welsh international did tonight.
Tomlin really should have made it three as his team broke with devastating effect a few minutes later and Lossl had to tip a Joe Bennett free kick over as the team finished the half playing as confidently as at any time this season.
The second period was more about City being happy to let Huddersfield have the ball and challenge them to break down a defence which, the QPR aberration apart, has been a strong one recently.
There was little sign of Huddersfield having the means to get back into the game through its third quarter and, when a goal came with twenty minutes left, it was into their net. There was an element of luck involved as sub Junior Hoilett's shot was deflected into Tomlin's path and he then showed great balance to wrong foot a defender – Lossl was able to keep out the City man's shot, but Callum Paterson was following up to, effectively, end the game as a contest.
So, City have made a great start to Neil Harris' self proclaimed most important week at Cardiff so far.
The win only maintains our position four points away from the last Play Off place, but, with West Brom now definitely over their Christmas/January wobble and looking certs to occupy one of the two automatic promotion places, all of a sudden, faltering Leeds, seven points ahead of us in second place, do not look out of reach.
This was as convincing a result and performance as City have managed all season and I'd like to think that a win like tonight's can only have a great effect on morale, but a couple of notes of caution. This was far from the norm seen from Cardiff in 19/20 and so it might turn out to be just a one off. Also, Wigan await on Saturday and they are a team who have in recent meetings definitely had the better of us in much the same manner as we do when we play Huddersfield.
Away from the first team, former Wales striker Steve Morison, who was at Millwall for nearly all of Neil Harris' time there as manager I believe, has been appointed to the role Andy Legg was relieved of when our new boss came in.
Morison will work with Tom Ramasut, who had been in charge of the Under 23 team in the interim period, and watched his first game last night when City beat Bristol City 3-2 at Cardiff City Stadium in an entertaining and closely fought encounter that I thought we just deserved to win.
From my own point of view, it was good to see us represented by a side featuring so many Academy products, but most interest centred on Brad Smith, our recent loan signing from Bournemouth, who played the full ninety minutes.
Smith looked a little rusty in the opening half, but improved markedly in the second half and played a leading role in our third goal which, in my view, was the best of the game. Smith looked the effective attack based full back that was promised when he signed and with Cameron Coxe, who made the first goal, supplying a steady stream of good crosses throughout, this was the sort of modern day full back play that a change of style for the first team could be based on.
City scored first a couple of minutes before half time when Mark Harris, working as hard in the lone attacker role as I've seen him, met Coxe's cross with his head and the ball was blocked by a defender into the path of City captain Laurence Wootton who scored easily from close range.
Disappointingly, Bristol were level within a minute, but Harris gained a reward for an impressive display when he closed down goalkeeper JoJo Wollacott and the attempted clearance rebounded off him into the net.
A feature of the second half in particular was the effective rotation of Tom Sang, Taz Mayembe (and then Keiron Evans when he replaced him) and Sion Spence as a three playing behind Harris and when Smith and Evans combined well down the left, the full back got forward to pull back a cross which arrived at the feet of Spence who scored calmly with a side footed finish from the edge of the penalty area.
A very late goal back for Bristol (I thought keeper Matt Hall could have done better on both of the goals he let in, but it should be emphasised that the frequent and heavy hail showers made for difficult goalkeeping conditions) made for a fraught last minute or two, but in the end, City got a just reward for a performance that I would rate as not brilliant by any means, but pretty promising.