Anyone watching Cardiff City's last two matches against Watford and Blackburn would probably have thought they'd had their flirtation with the top six places for the season and the object of the exercise would be more about making sure they did not fall into the relegation scrap.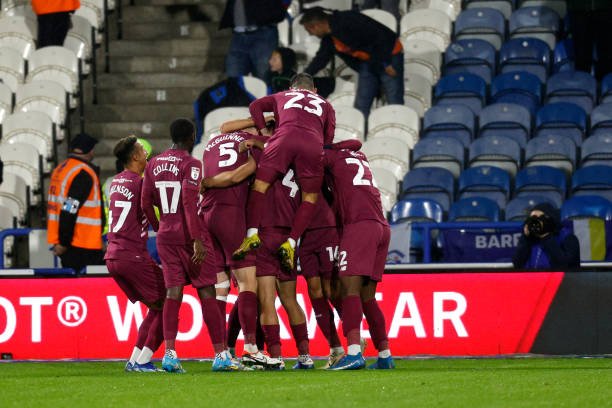 However, following tonight's completely unexpected 4-0 win at a hapless Huddersfield Town, City are back in sixth position. Even though their lofty position will almost certainly only last for twenty four hours once the other half of the division plays tomorrow, this is the sort of morale booster that gets people thinking that perhaps the top half or better may be an area we can keep interested in for the duration of the season.
So, how did a team that had mustered a grand total of seven on target goal attempts in their previous three matches manage to become so ruthless in front of goal (in truth, ruthless might not be the right word there because, with better finishing, there could have been a doubling of our goal tally on a night when we looked dangerous every time we attacked)?
The reaction to the three winless matches we've just been through centred on the manager's decision to use Ryan Wintle as the closest thing we had to a replacement for the injured Aaron Ramsey. In truth, Wintle was never playing as the genuine number ten that Ramsey had been, he was the most advanced of the three central midfielders, but he'd still be doing his bit defensively and this was the nub of an issue which is the closest thing there's been to a rift with the fans for our new manager in a first few months which has generally gone better than most were expecting.
Don't get me wrong, the use of the word rift probably overstates what happened, but, there were a proportion of supporters, myself included, who felt that the manager's very frank analysis as to why Callum Robinson and Rubin Colwill were not being picked in the starting line up (they don't do enough when they don't have the ball) ran the risk of becoming an incidental matter. This is because, for all of our good work without the ball (we'd only had two on target shots on our goal in our last two games), the lack of a natural creator in the central midfield three meant that we were not cashing in on this and it was all making for incident free football that was reminiscent of last season.
I for one was not expecting Erol Bulut to change his approach tonight and I don't think for one minute that he was persuaded to do so by what some supporters were saying on social media, but, for whatever reason, he went with Robinson instead of Wintle tonight and it took us less than two minutes to find the net!
The other change from the Blackburn game saw Yakou Meite replace Ike Ugbo as the attack leader and I would say that this was at the heart of the reason why we won at a canter.
After about half a dozen games where we were fielding eight players who were more instinctive defenders than attackers, we changed the balance to seven/four, but tonight was more about who the four were.
I'm not saying that Meite, Robinson, Josh Bowler and Karlan Grant are one of the Championship's great front fours, but they are all experienced players at this level who have had spells during their careers when they were very effective second tier forwards and tonight during a first half that saw us take a 3-0 lead all four of them were a fair bit better than the people charged with marking them – that only happens rarely.
Perhaps the downside of the "gamble" behind tonight's selection was seen in how, despite the clean sheet, we were more open than we have been – Huddersfield really should have scored despite some sterling work by Jac Alnwick, Dimitrios Goutas, Mark McGuinness and Jamilu Collins as well as Manolis Siopis' best performance for us so far I'd say (there were a few candidates for man of the match tonight, but it was Sipios for me).
However, it was not to be, the home side's best player in my opinion Rudoni hit the bar late on and missed a bit of a sitter from a header at the end of the first half, Wales international Sorba Thomas drew a spectacular tip over from Alnwick and the keeper also did well to keep out two more Rudoni efforts – Huddersfield had nineteen goal attempts to our fifteen and we only shaded the on target attempts by seven to six..
The first good Alnwick save came during a strong Huddersfield response to falling behind so early on, but when City made it 2-0 in just the twelfth minute, the rest of the first half was as one sided in our favour as any forty five minutes I've seen us play in recent seasons.
Meite established a physical dominance over his Japanese opponent Nakayama when he freed Bowler down the right in the second minute and the winger's low cross was backhealed towards goal by Robinson and found the net with the help of a deflection off Matt Pearson which I think may end up being adjudged an own goal, but, for now, it's Robinson's first league goal of the season in his first league start.
Huddersfield were suggesting that they had an equaliser in them and perhaps more when Perry Ng fed Bowler in space and his left footed shot drew a good save out of Lee Nicholls in the home goal. Huddersfield had not got off the hook though and from the resultant corner swung in by Joe Ralls, Goutas flung himself at the cross to head home from six yards and this time there was no idiot referee desperate to find a reason to disallow it.
Bowler, Grant, Meite and Robinson all might have made it three before Meite did so with his first goal as a Cardiff player when another Ralls corner was only half cleared to the former Reading player who smacked home from ten yards.
I've never known a manager make four changes at half time before like Huddersfield boss Darren Moore did tonight and there was an improvement from his side (although I think this probably had a bit to do with City, hardly surprisingly, being content with what they had).
In saying that, Bowler should have done better after Collins had got to the bye line and pulled the ball back to the winger fifteen yards out. There were also good chances missed on the counter attack in the closing minutes, but there was a fourth goal in the form of another great free kick from Perry Ng.
The full back's goal at Birmingham last February was one of the best moments of a dismal season and Ng said he rated that one as better than tonight's, but I'm not sure about that. This one might have been better as he bent the ball outside of the goal and around the wall only for it to come back enough to go in about a foot inside the upright – I don't believe Nicholls lined up the wall badly or he positioned himself poorly, but he was still well beaten by the sheer quality of Ng's strike.
The under 21s were in action at Watford today and Cian Ashford put them ahead on forty three minutes. A second goal soon followed (sorry, no news on who got it), so it was disappointing to learn that the home team scored twice in the second half to secure a draw. There was also a 5-1 win for City's women's team at Pontypridd on Sunday and they are now the only unbeaten side in their league – Eliza Collie, Siobhan Walsh, Molly Kehoe, Seren Watkins and Mikayla Cook were the goalscorers.