Ward salvages another draw as Cardiff maintain slow improvement, writes Paul Evans.
http://mauveandyellowarmy.net/
One of those away games where I'm writing this having only listened to the game on Radio Wales and seen a video showing the highlights on Sky Sports' website I'm afraid, so this will probably end up being a shorter piece than normal – oh no it wan't!.
My reaction at the final whistle of today's 2-2 draw at Hull was a distinctly mixed one because, while I had been able to watch one of them and not the other, I had the same feeling as I did with our previous away game at Derby – it was a match that we would have won a couple of years ago and, despite the lower standards seen so far from the 19/20 team, it was a game we should have got three points from.
The reason I say that our somewhat spluttering current side should have won is that the distinct impression I got from the first half was that we were, if not dominant, more than holding our own. At Derby, my feeling we definitely could have got more stemmed from the problems we caused the home side's defence when we were able to "get at them" – they were hanging on at times when we were able to up our game a bit, but we weren't able to maintain the tempo and pressing game that inconvenienced Derby.
Today it felt more like the sort of control we had for most of last week's victory over Middlesbrough. Perhaps I'm letting the fact that we actually won the possession stats (albeit by 51/49!) colour my thinking a little, but it did "feel" as if this was our best away performance so far in that it seemed more like a home match – I know we don't dominate in the traditional sense at Cardiff City Stadium, but you only have to compare our home and away records this season to realise that, for now at least, we are more comfortable playing in front of our own crowd.
Granted, what polling companies call the sample size is small at this stage of the season, but all of our home matches have been tight affairs where we have been able to come up with the win most of the time. Contrast that with on the road, where all bar the Reading game have been similar such encounters, but we don't seem to be able to seize the winning chance when it is there for us.
Today sounded like a big opportunity as I listened to a first half where we hit the crossbar quite early on through Junior Hoilett, who was brought in for Josh Murphy, and then our two centrebacks and the well again Robert Glatzel were all very close to getting a decisive touch to a cross from the same player.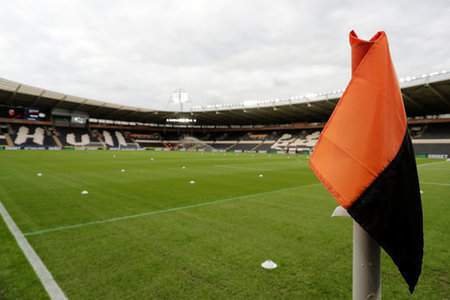 Although there were reports that he was training again after the injury he picked up in his second game for us at Reading, Marlon Pack's inclusion at the expense of Callum Paterson was a surprise. Pack's return meant more midfield solidity, but threatened to leave our main striker even more isolated than he usually is. I had assumed that it would be Joe Ralls who would become a kind of notional number ten as the most progressive of our three central midfielders, but that task seemingly fell to Leandro Bacuna and, judging by what was said about him post game, he made an effective contribution in a continuation of his recent good form.
One of the reasons for my, distinctly unusual, sense of contentment today when listening to an away game where the score was 0-0 was that Hull were not doing much to suggest they had a goal in them, but then, out of nowhere, the ball was in our net and a minute later we were marching off the pitch 1-0 down at the interval.
The commentary talked of a shot from a free kick from Polish international Kamil Grosicki from as far out as thirty five yards which found it's way into the net despite there not being much pace on the ball. The inference was obvious – goalkeeper Alex Smithies should have done better with a shot that we were told appeared to go through him.
Having now seen the goal (it was not as far out as thirty five yards, but thirty is a distinct possibility), I would say that Smithies may have been to blame, but not for not saving the shot. For me, any question marks about our keeper's role in the goal have to be about his lining up of the defensive wall, rather than his role as a shot stopper.
I think you've got to give Grosicki credit for a beautifully flighted effort that dipped on Smithies and found its way into the goal right in the bottom corner to the keeper's left.
If Smithies was to blame for the goal, then he went some way to atoning for his error in the opening minutes of the second half when he denied Grosicki as he moved in from the wing in a one on one with the keeper and it wasn't too long afterwards when City drew level,
Being a bit cynical, it was an unusual goal for City because it featured a central midfield player, Pack, picking out an intelligent forward run by another one of our middle of the park players, Bacuna, with a neatly clipped pass down the left for the Curacao international to run onto.
What happened next was also unexpected when, on an afternoon where, according to the commentary, the quality of crossing from anyone in the City team who isn't Junior Hoilett was otherwise disappointing, Bacuna came up with a lovely low delivery which was just begging to put into the Hull net and Glatzel obliged for his first goal from open play for the club.
It was a very well crafted goal which told critics like me that, maybe, we won't be as reliant on set piece goals as I feared we might be and it may have sowed a seed of doubt into the minds of future opponents who had figured we didn't have a goal like that in our armoury.
Annoyingly, things tended to go downhill a bit from hereon. Once again, I should qualify what I say by repeating that it is based only on what I heard others saying about the game, but until the dramatic last few minutes, City were unable to come up with much to suggest that they would be able to kick on and get the three points.
In fact, while Hull weren't doing a great deal to suggest that we would be going home with nothing, the commentary was conveying an impression that, if there was going to be a winner, it would be for them – therefore it was inevitable that my earlier contentment was transforming into something much more like the feeling I normally have when listening to the radio commentary of one of our away games!
Murphy and Nathaniel Mendez-Laing replaced wingers Gavin Whyte and Hoilett and it was Danny Ward who was Neil Warnock's choice to replace Glatzel rather than Omar Bogle or Callum Paterson in what was probably the strongest bench we've had all season (Lee Tomlin appears to be as far out of our manager's thoughts after his brief sojourn in the first team as he has been for about 90 per cent of his time at Cardiff).
It appeared to all be to no avail though as the home side went in front again with just a minute of the ninety left from a goal which I feel asks questions of our approach to defending free kicks from wide areas.
While I don't claim to have any great tactical insight into this aspect of the game, I have instinctively always preferred man to man marking, to the alternative which involves defenders "marking" zones – I daresay it has something to do with preferring what I grew up with.
Despite my misgivings, I would say that zonal marking from corners does not seem as dangerous to me as zonal marking from the sort of free kick Hull had today. I should say a couple of things here mind – first, I'm assuming we were marking zonally, because, if we weren't, then the goal is even more of a cock up than I thought it was and, second, we were again on the end of a beautifully taken free kick.
Jarrod Bowen's left footed dead ball delivery bending in towards our goal at just the right pace would have been a testing one to deal with however we set ourselves up defensively, but that doesn't offer an excuse as to why two Hull players ended up being marked by one City one (Sean Morrison).
My instinct first of all was to blame Morrison for the concession of the goal, but there was at least one of our players more culpable than him because they either weren't marking men or zones in the manner which they would have been expected to.
Centreback Jordy DeWijs got the glancing touch with his head that was all that was needed to beat Smithies given the quality of Bowen's delivery and the home side celebrated as if the points were theirs.
The announcement that there would be six minutes of added time offered City hope that all was not lost as Aden Flint was pushed upfield and in the ninety second minute he got himself an assist.
It was a goal which was very much in the route one mould, but no one could knock City for going long so late in the game. Smithies whacked a long ball down the middle, Flint outjumped his marker and guided his header into the path of Ward, who knocked the ball to one side of the last defender, strode on and jabbed a shot from fifteen yards past George Long in the home goal which deserved more praise than the "scuffed effort" description it got on the radio.
The drama hadn't finished yet though as a mazy run by Bowen set up a chance for substitute Honeyman which saw him denied by some excellent last ditch City defending which had a look of 17/18 to it.
It appeared to be a great chance for a home winner when the ball broke free some twelve yards from goal, but Morrison and Joe Bennett had come across to keep the ball out and, in the end, there was no way Honeyman's shot was going in with Smithies and two defenders all in the right place to make sure it didn't
I think it was Morrison who the ball hit to prevent the goal, but, in a way, it didn't matter who got the decisive block in, the important thing was that their were two other candidates who may have. Things like that, the quality of the first goal and the fact we got a second one so soon after going behind late in the game are all suggestive of things slowly coming together for City.
It's six league matches unbeaten now for City and, while Neil Warnock's post match comment about him never being so disappointed at seeing his side equalise in the 90th minute is understandable, because it does allude to that feeling I talked about this being an opportunity lost because we were the better team for long parts of the afternoon, you have to acknowledge that there was an element of the 17/18 "over my dead body" attitude present today which hasn't always been there so far this season.
After a couple of very good wins in the last few weeks, the Under 18s rather came a cropper today as they conceded three goals in the opening twenty three minutes at Ipswich – Harry Pinchard's cross cum shot which floated into the net on sixty nine minutes was all that City could manage in the final three quarters of a match which finished 3-1.
Blaenrhondda FC meanwhile cantered to a 7-1 win on the 3G pitch at Cambrian and Clydach over Grange Albion to move up to seventh in the Premier Division of the Highadmit South Wales Alliance League.