I've been quite critical of Cardiff City in recent weeks for a couple of reasons, writes Paul Evans. First, even if you allow for the fact that, inevitably, the level of pressure that they are under currently means that it would be unfair and wrong to expect the sort of displaythat blew away Aston Villa in our first home game of the campaign, I've thought our general level of performance has been some way short of what you'd expect from a side chasing automatic promotion in late April.

Second, in two of our recent games, we have been involved in incidents and/or periods of play that you just don't associate with sides that win automatic promotion. To miss two penalties in added time in our match with Champions Wolves was Keystone Cops stuff, but worse was what happened on Tuesday against Derby.

Thankfully, the computer problems I have encountered since my move house last month would seem to be a thing of the past, but a somewhat unfortunate by product of this is that I've now been able to watch highlights (although "highlights" is surely a complete inappropriate word under the circumstances!) of the 3-1 loss and I have to ask what on earth were our usually reliable defence doing!

Before I forget though, a word of praise to Callum Paterson for a fine goal which deserved better than to be remembered as something of an afterthought on a night where we collapsed in ignominious fashion. Listening to the game on the radio at the time, the impression I got was that Derby second goal, courtesy of Yanic Wildschut's aberration was the prime contender for any compilation of prize bloopers, but it was as nothing compared to the catalogue of errors that was Derby's equaliser!

However, Tuesday is over and done with now and things have moved on since then. I could go on at length about what has been wrong with us during April, but, to do so, would be to ignore what the 2-0 win over Hull in our last away game of the regular season means. The fact of the matter is that, with forty five out of forty six matches played, we find ourselves needing only to beat Reading at Cardiff City Stadium a week today to clinch second spot in the Championship and a return to the Premier League.

That last sentence puts everything else into perspective – a season which had some tipping us as possible dark horse candidates for a top six finish, is going to end with us either being runners up or, if we are pipped by Fulham and finish third, we would end up either sharing the highest points total by a third placed side with Brighton in the last twenty years if we lose to Reading and being the first team to reach ninety points in a Championship season and not go up automatically since Sunderland in 1997/98 if we draw with them.

In virtually any other season in recent memory, we would already be celebrating promotion with a points total like we have now – as it is, we two more points than the 12/13 Championship winning side managed and there's still three more of them to play for.

A win in eight days time would see us averaging two points a game over a forty six match season and although comparisons are hard to make because of differences in the number of points given for a win and the number of matches played in a season, my hardly infallible research would seem to indicate that only 1946/47 would surpass that record in terms of points per game since we entered the Football League ninety eight years ago.

So, even if our regular season was to end in tears next week and then disappointment in the Play Offs, 2017/18 would be one of City's best season's ever in terms of their playing record, as opposed to finishing position.

My feeling is that it will turn out to be a difficult season to analyse in terms of trying to explain quite why we were as successful as we have been, but our record does show that critics like me (and there have been plenty of others on messageboards who have been downbeat since Tuesday) have been guilty of over emphasising the setbacks when they have come along and rather taking all of the wins for granted.

One conclusion I did reach around the time we were taking one point out of a possible nine in games against Sheffield United, Wolves and Villa is that by taking forty seven points from our first twenty two games and seventy nine points from our first thirty eight was that we had given ourselves a buffer. Our poor results in recent weeks against sides at or near the top of the table might have set a few alarm bells ringing regarding the size of the task we have if we do get to the Premier League, but, in truth, they were relatively unimportant as long as we kept on doing what we have been for most of the season – beating those sides that we should be seeing off when you look at the league table.

We may have been low in confidence after losing at Villa, but, Derby apart, our last five league games were made up of matches with sides that were likely to have little to play for – furthermore, they were all teams from the areas of the table that we had made a habit of beating.

Norwich, Forest, Hull and Reading are all sides that have barely been mentioned in terms of a top six challenge since the action started in August – indeed, only the first named have not been seen as relegation candidates at various times during the campaign.

As it turns out, we will be playing a side who will have something to play for next week, because Reading's very poor form of late means that a fairly freakish set of results could still see them relegated next week.

It really will be a great end to the Championship season next week, because the only issues that are known for sure in terms of promotion and relegation with just one game left is that Wolves are going up and Sunderland are going down. Whichever one out of us and Fulham that comes third are assured of a Play Off place, as are Villa and Middlesbrough, but there are so many games besides ours which will hardly fall into the "quietly winding down for summer" category!

For example, Fulham, who were given a scare at Craven Cottage on Friday night by Sunderland before moving above us again thanks to a 2-1 win, have to go to a Birmingham side that can still go down after their 3-1 loss at QPR. Despite a series of heavy defeats (including an awful 4-0 home loss to mid table Ipswich yesterday), Reading's goal difference is a lot better than Birmingham's so, realistically, the only way the Brummies can finish above them is if they do us a huge favour by avoiding defeat against Fulham.

As someone who had a quiet fancy for Brentford squeezing into the top six, their 2-0 defeat at a Barnsley side that had looked virtual certs for the drop surprised me and it's another season of Championship football next season now for the team that has had more shots at goal than anyone else this season. Barnsley now go to Derby where the home side will be favourites to take the last Play Off place, because, realistically, only Preston, who are two points behind them with a worse goal difference, have any hope of overhauling them now.

Remarkably, the sequence of matches with issues at the top and bottom of the league continues because Preston entertain Burton, who are making a great late bid to avoid the drop after recording a third consecutive win yesterday. Burton are still in the bottom three by virtue of Barnsley's better goal difference, but things are looking bleak now for the team Burton beat, Bolton, who play Forest at home knowing that nothing but a win can give them a chance of staying up.

So, you can see that it will take a few shock results next weekend for Reading to suffer relegation a season after they had been beaten Play Off Finalists, but they will have to come to Cardiff next week with the attitude that Burton, Barnsley, Birmingham and Bolton could all end up winning.

Does that mean that City can start thinking in terms of the hard work being done already and they are as good as up? Of course they can't – another penalty or defensive catastrophe may be just around the corner, but they can take some comfort from a home record which shows that Reading have to do what only Sheffield Wednesday out of the sides from Brentford in ninth place downwards have succeeded in doing this season in their visit to Cardiff – prevent City winning.

City can also take confidence from a good job done at Hull. With fives scored at Burton and Bristol City and fours in home matches with Norwich and QPR, the Humberside club have been in free scoring form recently, but we are not the sort of side that gets involved in 5-5 extravaganzas like the one seen at Ashton Gate last weekend. Given how poorly we defended at Pride Park, I'm pretty sure that there would have been plenty of time spent on the training pitch ironing out issues which, to be fair, have been rarities for the team over the past eight months.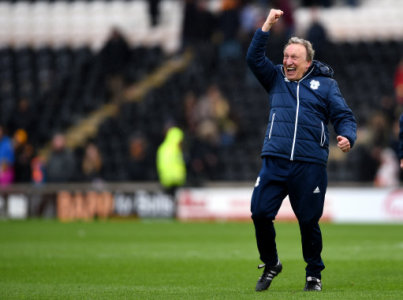 Indeed, the BBC's stats show that, as is usually the case when you're playing Cardiff City, Hull had a lot more of the ball (67/33), but they didn't manage a single effort on target, while up the other end, ex City loannee Alan McGregor had to make a series of sharp saves to keep us out.

Having been "bullied" by ex City striker Cameron Jerome for both of his goals for Derby on Tuesday, captain Sean Morrison was having to come back from what was a rare off night this season and it shouldn't have come as a surprise to anyone that the man who has been a serious candidate to be our best and most consistent performer this season would respond so well.

Anyone seeing that we had won 2-0 with a couple of Morrison goals would no doubt be thinking that both of the goals were like the first one – a close in header from a dead ball situation (a Joe Ralls corner (in other words, typical Cardiff!). This time however, they'd be wrong because, Morrison, who seems to enjoy the odd foray forward from open play, popped up to receive a cross from Nathaniel Mendez-Laing (who, encouragingly, shows up quite frequently in these highlights) , step inside a defender and place a left foot shot into the net in a manner which a seasoned striker would have been well pleased with.

The suspicion that, in the same way it always seems to be one out of Kenneth Zohore and Gary Madine to play, only one out of Aron Gunnarsson or Marko Grujic to start in our midfield was given further credence yesterday when the Iceland captain sustained an early injury which it seems may be serious enough to put his World Cup Finals place in doubt this summer. Therefore, the young Serb came on in Gunnar's place, but he was to only last until half time as Neil Warnock, not for the first time as I recall, decided he should take Grujic off before he was sent off.

Craig Bryson was Grujic's half time replacement so, with only one sub left for the whole of the second half, the obligatory swapping of our strikers was delayed until the ninetieth minute as Madine was only given a few minutes to try to score that elusive first City goal.

Our manager has, probably rightly, pointed out the advantage Fulham have had by playing some of their recent games before us, but, as has usually been the case when this happened, City have responded by matching the Londoner's win with one of their own – on the other hand, Fulham dropped points against Brentford when they played after our win at Norwich.

According to Neil Warnock, we are a "rash that won't go away" when it comes to the top of the Championship table – it's an apt description for a team who, as our manager must delight in noting, have been a right bloody nuisance to the more fancied outfits around them. Neil Warnock's historic eighth promotion isn't won yet and it shouldn't be forgotten that we have looked much more fallible in recent weeks than the team that is contesting second place with us have, but we only need to do once more what we've been doing now for about a month – keeping Fulham at arm's length.

It's a side in dreadful form who their manager said were "shameful and embarrassing" in defeat by Ipswich yesterday who stand in our way, City need just the one more big push for that promotion and nearly all of the evidence of this season suggests they can do it.