In fact, although I really should know better, I was feeling very confident we would see the game out as it went into added time. Whereas I just knew that Barnsley and Peterborough were going to score late on, I didn't see Williams' goal coming because we had done such a good job in containing the home side throughout the second half.
However, the disappointment of conceding late on yet again is tempered this time by the encouraging nature of both the overall performance and the tactics employed by Dave Jones. With Jay Bothroyd missing again and Josh Magennis' unfortunate injury, City had no natural target man in their squad and it was good to see that fact being recognised in a way that it didn't seem to be on Saturday after Magennis went off.
To play a quick, short passing game on a pitch where the ball was always being slowed down by the lying snow on parts of the pitch was a risky policy, but, fair play to all concerned, they made a decent fist of it. After getting into promising positions without really delivering in the first half, I thought City were certainly the better side after the break as at times they made the home team look clumsy in comparison. Once again, the final ball wasn't quite there, but, despite this, there were some encouraging performances in the reshaped midfield.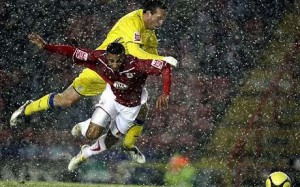 If Joe Ledley's mobility is restricted as much as it is reported as being, then a sitting role in front of the back four may be the best place for him at the moment - he certainly looked at home there last night as he broke up home attacks and invariably found the right pass for the situation. In front of him Aaron Wildig had a compliment of sorts paid to him in that he seemed to be the subject of a deliberate ploy to "rough the kid up" on the part of the wurzels - Wildig coped with the attention he received well, played a full part in an improved City display and, having seen how he can finish at youth level, I reckon he will have been disappointed not to have done better with that lob he tried in the first half.
Alongside Wildig for most of the match, Soloman Taiwo gave what was easily his best performance in a City shirt as he displayed a composure that, the early stages of the QPR match apart, we hadn't seen from him before. Taiwo also has a bit of a presence about him and it seems odd that, having finally shown what he might be able to offer us, he is now being loaned out to Colchester United. Perhaps, the financial situation at the club is so bad that any offer which means there will be a reduction in our wage bill, no matter how slight, has to be accepted but Colchester are a strong team at First Division level and it might be that Taiwo will struggle to get the games there that Dave Jones feels he needs - if he is just going to be warming the bench there, then he may as well stay here and do the same thing.
If the performances of Ledley, Wildig and Taiwo in the base and middle of City's midfield diamond meant that the experiment was a success overall, Peter Whittingham's display at the tip of it saw the recent dip in his form from the high standard he had set for himself this season continue - although, strangely, in the game where he moved into the middle, his dead ball delivery from wide areas was of a higher standard than it has been recently.
With Chris Burke being the only natural winger we have, maybe a diamond formation will be worth persevering with if he is to be missing for any length of time - we certainly looked more solid through the middle than we have often done in the past and with the wurzels playing the sort of 4-3-3 that is really more of a 4-5-1, we were often outnumbered once again in the middle of the park.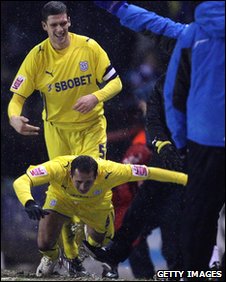 However, hopefully the most significant thing to come out of last night's match was that Michael Chopra has broken his fourteen game scoreless run. For me Chops was always going to get back on the goal trail in one of two ways - either with the sort of fluke he got against Scunthorpe on the opening day of the season when the ball hit him and went in or with an instinctive finish which saw him rely on his natural talent from a position where there was no real expectation of him scoring. Chopra used his innate ability to end a barren run three years ago with a superb lob at Wolves and he did the same sort of thing last night. With the conditions against the sort of high tempo game he favours, Chopra cut a forlorn figure at times last night, but when Gerken's error gave him a chance wide out on the right, he responded with the sort of quality finish that has been there in him all along - hopefully that fine goal will see a return of the "normal" Michael Chopra in our upcoming games.

http://mauveandyellowarmy.net/