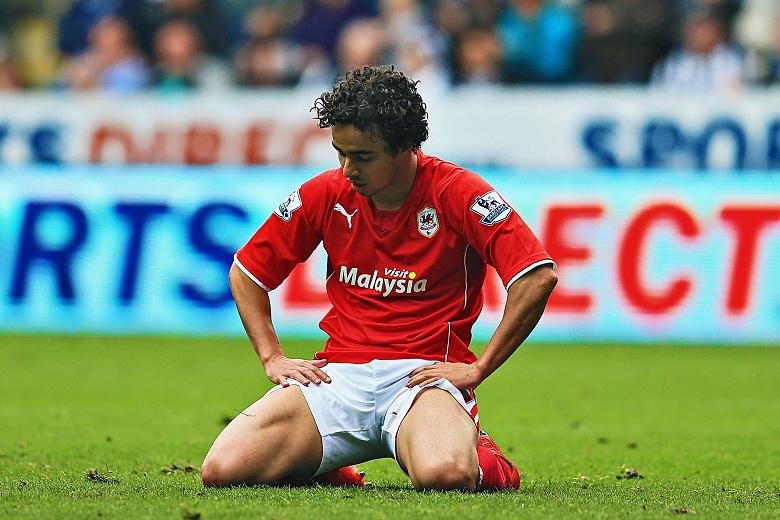 one of it's players or it's manager "the best ever" and exaggerating the bad times so that those same heroes of a few weeks or months earlier become "the worst ever". It's also true to say that when you see so much of one team compared to their rivals in the same division, it's easy to fall into the trap of believing that they are better than they really are or over emphasising weaknesses to the extent that you feel your team is far worse than the ones just above or below you in the table.
So, bearing all of that in mind, I'll try to be objective here. For example, based on his form this season, our goalkeeper gets into my best ever Cardiff City team, but none of the other squad members do and the manager that I still rate as the best I've seen at the club (Malky Mackay) certainly doesn't get that award on the basis of what he did at Cardiff in 13/14, but what he did in the two seasons preceding that. Having seen sides that have been relegated to the Football League's fourth section and then finished in the bottom three of that division, none of the squad get anywhere near my worst ever team either – our current manager might not have covered himself in glory over the past few months, but, again, I saw worse than him in the 80′s and 90′s.
Judging our abilities, or lack of them, against other Premier League sides is a little more difficult, but, when you compare us to the teams we have spent the winter fighting relegation with, I think only Fulham (whose relegation was also confirmed yesterday) are serious rivals to us for the title of worst team in the Premier League 2013/14.
Norwich are almost certainly accompanying us into the Championship, but, despite us taking four points off them, they looked a much better team than us in our two games with them and they generally had a solidity on their own ground that we couldn't match. Of the others, Sunderland's ability to get points off the best away from home showed they were able to raise their game to levels we couldn't reach on their good days and much the same was true of West Brom who, like the Wearsiders, were held back by strange home results against the poorer teams.
No, the only team I saw who were worse than us in both matches we played against them were Fulham, they also shared our capacity to collapse to humiliating heavy losses against out of form outfits or relegation rivals (not as often as we did mind!) and their defensive record was even worse than ours. I don't see much point in endless Malky/Ole comparisons now, but it has to be said that over the first half of the season, I don't think there would be much argument as to who was the better team, but since the turn of the year, Fulham have picked up three more points than we have so they've been better than us since then – I suppose the best thing to do is let next week's final league table decide who was the poorer side over the course of the campaign.
Even the games which signalled relegation for the two sides had a similarity to them with heavy defeats against teams with nothing to play for. That said, I've not seen anything of Fulham's 4-1 loss at Stoke, but I seriously doubt if it could have been as embarrassing and deflating as our 3-0 loss to a distracted Newcastle United was yesterday.
On the face of it, a visit to a club that had lost their last six games and was being ripped apart by internal strife that saw some home supporters walking out in protest with just over twenty minutes to go offered a perfect opportunity for us to get the three points which would have carried the fight on into the final game of the season. However, as has happened so many times lately, City turned in a lame and desperately poor performance against a side under real pressure through either bad form or a poor league position.
It was a strange old game. City yet again started dreadfully and could easily have been three down within half an hour, but as the second half wore on with Newcastle still just the one goal to the good, we had the bizarre sight of a home side playing as if they were scared stiff of us! City were having the better of things at this stage, but the amount of respect shown to us by Newcastle was ridiculous with a midfield player and winger being replaced by central defender and sitting midfielder.
I find it very hard to believe Alan Pardew would have been quite so cautious in his approach if there hadn't been so many people in the ground calling for his sacking, but, to be fair to City, they did manage to create far more very good chances from open play than they normally do. Four spring to mind for me – Fraizer Campbell shot wastefully wide early on when Newcastle keeper Tim Krul dropped a cross, Wilfried Zaha (far and away our best outfield player on the day) did brilliantly to work himself into a position where he shouldn't really have given Krul the chance to make a fine save, sub Kenwyne Jones shot weakly at Krul from close range after some good work by Aron Gunnarsson and then the Icelandic international wasted probably the best chance of the lot seconds later when home captain Coloccini cleared off the line.
So many of City's problems stem from their inability to create sufficient chances from open play (we don't make many from set pieces these days either), but yesterday served as a reminder that, even when chances are made, we are short of the composure and technique needed to put them away.
Manager Ole Gunnar Solskjær was right to be critical of the standard of finishing shown by his team yesterday, but I must admit to being baffled by some of his other post match comments because "With the effort they put in against Newcastle, they did not deserve to lose." certainly didn't describe my feelings about what I had just watched from my team.
What at first had appeared to be the oddest in a long line of strange team selections by our manager was partly explained away by the news that Medel, Dæhli and one or two others were absent because of illness, but there was still the questionable use of Gunnarsson almost as an auxiliary striker as he played just behind Campbell, while our top scorer Jordon Mutch was deployed in an almost Medel like deep position (with very limited success). Gunnarsson had shown last season that he can be effective when he makes runs into scoring positions from a deeper midfield position than he was used in yesterday, but in three seasons I've not seen anything to hint at suggesting that he could be a success at Premier League level playing in the sort of position he occupied yesterday.
Okay, I know Ole and his coaching staff get to see our players in training and so they are probably better placed than someone like me to know what they are capable, or not capable, of, but when I see the sort of thing I did in the first half yesterday I wonder if any training (particularly on the defensive side of things) actually takes place under our new manager and his staff.
Newcastle's third goal was a joke as they worked a short corner with no City player within yards of the ball to get in a cross which saw two home players completely unmarked before the second of them (Steven Taylor) scored. At least there was the excuse that the game (and the season to all intents and purposes) was over by then, but how do you explain Fabio going out to cover a short corner an hour or more earlier, turning to shout at team mates and then running back into the middle again leaving our opponents free to work the routine they had originally planned – I wish I could, but I can't.
I had a difference of opinion with someone about Ole last night as I argued that he should be given a chance in the Championship and he stated that he should go now. When I thought about it afterwards, I realised my argument was a pretty feeble one with the use of terms like "we should do the decent thing" rather proving that point – I also admitted to being influenced to a degree by the fact that Ole appears to be such a likeable bloke. If I had to guess, I don't think we'll see a change of manager before August, but the truth, as I see it, is that Ole has undoubtedly taken us backwards in the past four months and he is one of a number of people on the playing side at the club with plenty to prove in the new season.
* pictures courtesy of http://www.walesonline.co.uk/