Cardiff City Supporters Trust www.ccfctrust.org

Trust chair Tim Hartley, vice-chair Tracey Marsh and board member Keith Morgan tonight attended a meeting with other fans' representatives.
At that meeting Alan Whiteley, chief executive of Cardiff City, explained proposals by Malaysian owner Vincent Tan to invest around £100m in the club.
The investment will improve the stadium, will build new training facilities and offer Malky Mackay money to strengthen the team. The plans would see the stadium expanded to 35,000 seats by 2014.
However, Mr Whiteley said that the investment comes as part of a package with conditions:
From next season Cardiff City will play in red shirts, black shorts and red socks with a blue away kit.
The Bluebirds badge will be changed to that of a dragon.
But the name will remain as Cardiff City Football Club.
Vincent Tan and the Malaysian investors want the colour and badge changed to represent the fusion of the two cultures of Wales and Malaysia. This, Mr Whiteley, said would lead to new commercial and retail opportunities in Asia.
Tim Hartley said: "While we would obviously welcome the investment, I am personally disappointed with some of these changes.
"In our role as a Trust we will now canvass opinion among our members.
"Personally, I think the conditions proposed would mean that we would lose something of our soul as City fans. For generations people have been brought up as Bluebirds and to be told next season that we are Dragons wearing red shirts is perhaps a step too far.
"We are grateful to the Malaysians for their continued investment in Cardiff City. But I would urge them to think again and respect some of the central traditions of what Cardiff City has been and is."
Vice chair Tracey Marsh said: "Although I've not been a City fan as long as many, there is a principle at stake and I feel that as fans if we agree to the conditions that we will be selling out.
"One of our favourite fans songs talks about 'not taking my Cardiff away'. It seems that is exactly what is proposed as one City fan has said. I also worry what agreeing to this will mean in the future."
Trust members can email their comments to help@ccfctrust.org
Cardiff City Supporters Club www.ccsc.co.uk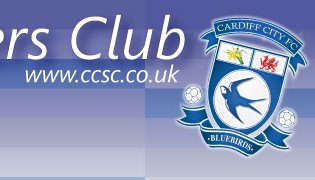 The Supporters Club have this evening been represented at a hastily convened meeting at Cardiff City Stadium, also attended by members of the Cardiff City Supporters Trust and reps from Cardiff's independent travel groups and messageboards. In attendance from the football club were Alan Whiteley, Julian Jenkins, Wayne Nash and Barry Macauliffe.
The meeting was called following internet rumours regarding a re-branding of the club which appeared over the last 24 hours and the following details were confirmed:
Cardiff City's home kit next season will be red shirts with a black flash, black shorts and red socks
The new badge incorporates a red dragon in a shield, with the words Cardiff City FC, est 1899
The away kit will be blue
The bluebird will not feature on any replica kit or official badge
The seats in the stadium will remain blue
A total investment of £100m by Vincent Tan, as equity not debt. This investment is on the proviso of agreement being reach with Langstone (agreement is very close). The investment will wipe out all debt as well as fund a state of the art training complex, stadium expansion to 35k and an increased playing budget
The club have no plans to offer refunds to the 16,000 season ticket holders who purchased tickets prior to this announcement
The meeting was told that the change to red kit and Welsh dragon badge was non-negotiable and there was no viable alternative for the Board but to accept the proposals as the club could not survive financially without the investment.
The majority of attendees spoke out against the proposals and some stated they would prefer the Malaysian backers to pull out rather than lose our identity and take whatever consequences, however some were happy to accept the change to guarantee the future of Cardiff City.
This is a fundamental change to our football club and now we need to canvass the opinion of our members as soon as possible to gauge the strength of feeling towards these changes, which are being implemented without any consultation of the fans.
Please email your thoughts to info@ccsc.co.uk and include your name and CCSC membership number. We will take all of your views on board and make any decisions based upon your feedback. Remember, this is your football club, so do make sure you let us know your thoughts, good, bad or indifferent.