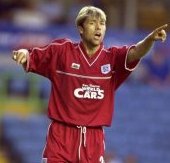 Spencer Prior and Andy Legg were both withdrawn from the action on Saturday with injuries. Reports today suggest that both are definately out for Northampton this Saturday, Coventry in the Cup replay and are both doubts for the visist of Cheltenham on Jan 18th.
Spencer Prior is suspended anyway for this Saturdays trip to Northampton.
Fan Zhiyi misses Northampton and the Cup replay while Willie Boland misses the Cheltenham game on the 18th and the trip to Port Vale on the 21st.
Gary Croft picked up a 5th yellow card on Saturday so he is out for Cheltenham as well.
The return of Scott Young to fitness is a major boost as City will need him this Saturday. There are rumours from the weekend that Daniel Gabbidon, if he comes through trailing this week, could be part of the squad for Saturday.
So the missing players for the next few games are
Northampton, Jan 11th.

Prior (injured and suspended)
Legg (injured)
Fan Zhiyi (suspended)
Coventry, Jan 15th.

Prior (injured)
Legg (injured)
Fan Zhiyi (suspended)
Cheltenham, Jan 18th.

Prior (doubtful)
Legg (doubtful)
Boland (suspended)
Croft (suspended)
Port Vale, Jan 21st.

Willie Boland (suspended)
Prior (??)
Legg (??)