If the Championship is the marathon race equivalent that many seem to think it is, writes Paul Evans, then last night was the time when early pace setters Cardiff City, having endured what threatened to be a catastrophic stumble just past the race's halfway mark, tried to make a break from the rest of the chasing pack just as long time leaders Wolves had a little wobble of their own.
With around seventy per cent of the race completed, Cardiff have put in a little spurt in the past week or so and things look a lot different now compared to how they did on 11 February after Aston Villa had just recorded their seventh straight win by beating Birmingham in the second city derby to move into second place in the table.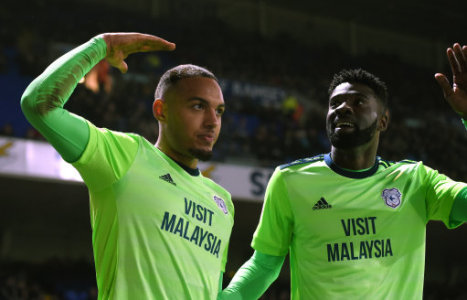 At the time, Cardiff City were fourth in the table some sixteen points behind Wolves, they were four points adrift of Villa, three away from third placed Derby and had a lead of three points over Fulham in fifth and sixth placed Bristol City – there was a six point Play Off "buffer" over seventh placed Preston as well.
Cardiff could point to having a game in hand (the home match against Bolton which had to be postponed on the weekend we played Man City in the Fourth Round of the FA Cup) on all of the sides around them, but, although they had recovered well from their Christmas wobble, it had not been to the extent that they had made up all of the ground lost when being beaten in those four consecutive games.
However, after last night's 1-0 victory over Ipswich at Portman Road, City have been the big beneficiaries so far in a period where there are an awful lot of matches between sides who would have seen themselves as genuine top six candidates.
This morning, City find themselves in second place in the table having picked up nine points in the past eight days. Yes, playing, and winning, that game in hand has helped matters, but Cardiff have taken advantage to the extent that that the gap to Wolves has been cut to nine points, Villa now find themselves four points behind us, we are five clear of Derby, Fulham are eight adrift and the wurzels ten – Sheffield United are now seventh and have played a match less than the other clubs at the top of the table, but they have a twelve point gap to make up on us.
The fact of the matter is that, while we were winning three games, Wolves and Bristol have drawn two, while Villa and Derby have both drawn one and lost one – apart from us, only Fulham of the top six have been able to win a game in the past week.
So, in marathon terms, I'd say City have, within the space of a mile or so, cut a third off the big gap the leader had built up and have put in a kick which has left the others in the chasing pack a little concerned that they could be creating a gap that will take a lot of catching up given that opportunities to make up lost ground are beginning to run out.
I'm not enough of a marathon aficionado to say with any accuracy whether breaks made with around a quarter of a race left have a tendency to be decisive – my suspicion is that they don't.
However, I do recall that back on 16 December after we had beaten Hull 1-0, I was allowing myself the luxury of thinking that it would take something to go disastrously wrong now for us not to make the Play Offs – at the time, we were just four points behind Wolves, while the gap between us and the others in the top six was four points over third, six over fourth and ten over fifth and sixth, while we had a Play Off buffer of eleven points.
Of course, something of a disaster was in the offing for us very soon afterwards and there have been times over the past seven or eight weeks where I doubted whether we had it in us to claim that top six spot.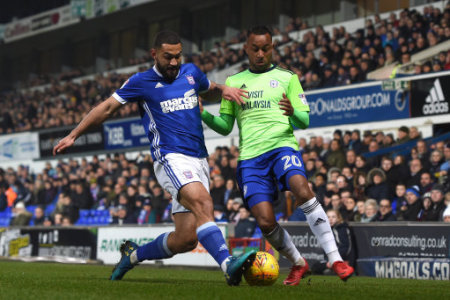 However, to a very large extent, the damage done over the holiday period has been fully repaired and then some now. I say that because, although the points gaps are not as great as they were in some cases, the number of games left for each team has declined. Indeed, although I'm sure that there are many City fans who, like me, feel that I shouldn't bring this up because it could jinx us, it has to be admitted now that we are getting into a position where we'll be thinking as much in terms of top two as we have been about top six.
What needs to be borne in mind in the Marathon/Championship comparison I've been alluding to is that while a silver or bronze medal can be a big compensation for "failure", the twenty six mile race is really a case of winner takes all, whereas the two Championship sides that finish behind the winner, but still get promoted can, in many ways, celebrate as hard as the club which came first.
So, I don't see Wolves fans losing any sleep yet about the "crisis" which has seen them go two games without a win (especially when you consider that they had won three consecutive matches before that). Some City fans are now saying that the long time leaders are catchable, but my attitude is that it's far more realistic to keep our eyes on the eight or nine contenders immediately behind us rather than the one in front of us – increasing the gap on the teams in seventh and third positions is far more relevant to us as things stand and, who knows, if we keep on doing that catching Wolves may become a more viable propostion.
I mentioned that there are nine or ten behind us who will still be thinking in terms of a top six finish, but, looking at the table this morning, I'd say that only the sides from QPR in fifteenth position downwards can say with any certainty that they won't be going up this season.
What teams like Leeds, Norwich, Millwall and Ipswich need to start doing quickly is beat a few of the sides above them if they are to retain their hopes of a promotion much longer. In the case of the first two named clubs, Leeds have had two creditable 2-2 draws against top six teams in the past week, while Norwich got a last gasp equaliser on Sunday in the East Anglian derby and scored another very late goal last night to secure a brilliant point at Wolves from 2-0 down.
However, the reality is that the long odds you would have got on either Leeds or Norwich going up before last weekend would have got longer still after last night – draws are not really enough for them.
Things are different for the teams from tenth placed Brentford upwards. They can handle a few draws and still retain their top six credentials – that could well be why so many of the recent spate of matches between sides with promotion ambitions have finished all square.
What you cannot afford to do is lose many of these games against fellow promotion contenders, hence there will surely be an understandable tendency to think a draw is no bad thing in such games as long as you do the business in your matches with the "no hopers".
However, what would be really great for one of the top ten sides would be if they could win a few of those games against fellow promotion seekers, because, given the way things have been going, that would give you the chance to make enormous strides up the league.
That's why Fulham's win over Villa on Saturday was so huge for them, but, with one exception, no other top fourteen side has managed to beat another one in the past nine days.
That exception is, of course, Cardiff City. After our draw at Millwall, many supporters, including myself, looked at a run of five home matches out of our next seven and felt it was a great opportunity for us to take advantage in a period where some of those in the top six had a series of very testing looking games.
However, the fact is that four of those seven matches were against sides in the top fourteen (i.e games that are tending to end up all square). Bristol City on Sunday and Brentford the following weekend will be big tests, but by managing wins against top fourteen sides in our past couple of matches, we have got ourselves into a position whereby defeats in both of those games would not be the disaster they would be for some who are not too many positions below us in the table.
As for last night's game, I remarked in my review of the Middlesbrough match that Sky's very brief highlights package offered a true reflection of an encounter which offered little in terms of goalmouth incident and yet I described it as a gripping encounter battle which left me feeling we had definitely played well.
Once again, the highlights of last night's game are of the blink and you'll miss them type. Indeed, Kenneth Zohore's winning goal (more on that later) came from our only on target effort of the whole ninety minutes.
Certainly, Radio Wales' post game discussion contained much extolling of the ability to "win ugly" and it seems that, unlike four days earlier, there were not many who were prepared to say that we played well.
However, I think it's fair to say that, to a degree, there was an excuse for the perceived lack of quality on City's part. After the game, Neil Warnock spoke of a "nightmare" forty eight hours which had seen Joe Bennett, Armand Traore, Callum Paterson and Lee Peltier all declared unavailable, with the last named expected to be absent for about a month and the first named, apparently, suffering from an illness.
So, with Jazz Richards back on the injured list again, this meant that we were without five full backs. Now, if the injuries to Traore, Paterson and Peltier did all come about in the forty eight hours before the match, I feel it again asks questions about the type of training the first team squad is undergoing as well as the intensity of that training given the stage of the season we are at.
Given all of those absentees, I'll mention in passing that we do have both of the current first choice full backs for the Wales Under 21 team on our books and, certainly as of last week, they were both fit and available. However, our manager looked instead to experience with Bruno Manga again starting at right back and Matt Connolly making only his second league start of the season at left back.
Now, I'd have full confidence in Connolly coming in and doing a good job for us in any other defensive position, but I've never been convinced by him as a left back. However, after missing a decent chance early on, Connolly seems to have settled down fairly well and generally done okay, as did Greg Halford who played fifty minutes at right back as Manga was moved into the middle to fill the gap caused by the substitution of captain Sean Morrison.
Needless to say, the sight of Morrison walking off set alarm bells ringing amid memories of the one win and four defeats when he was out of the side after going off under similar circumstances at Reading in December. I don't think there has been any confirmation that the in form defender had suffered a recurrence of his earlier groin injury, but I'm sure that there'll be many hoping our manager got it right when he said "it's not too bad"as he hinted that the captain's withdrawal was a precaution.
Therefore, what started as a fairly makeshift back four became even more of one just before half time and so full marks to all concerned for getting a fifteenth clean sheet of the season. Credit also to Mr Warnock for a bold half time substitution which saw Marko Grujic taken off so soon after we had made our first change.
I've not seen any clarification as to whether Grujic's withdrawal was down to tactics or to injury, but, rather than turn to someone like the fit again Craig Bryson (who had to wait until the eighty seventh minute, when he replaced Zohore, to see his first senior team action since Boxing Day), our manager brought on Gary Madine to play up alongside Zohore.
The two strikers combined to notable effect in the sixty fifth minute when Madine nodded a Joe Ralls free kick on to Zohore who took an air shot with his attempt at a left footed acrobatic volley, but then recovered sufficiently to stab a low shot home with his right foot from eight yards.
It was a goal that will never win any awards for its beauty and there has been post match discussion as to whether it should have been disallowed for handball when Zohore controlled the ball after his first, failed, goal attempt. For me, there was contact with the City player's hand(s), but I'm reminded of an incident from last Sunday's FA Cup game between Rochdale and Spurs where the ball hit Toby Alderweireld on the hand at least twice as he lay on the floor in his own penalty area, but the BBC's pundits were unanimous in agreeing with the referee that a penalty should not be given.
Nevertheless, I think it's fair to say that City got lucky there and so things have evened themselves out somewhat following the disallowing of a goal by Sol Bamba and a far more blatant handball in the penalty area being missed during the closing minutes of our recent draw at Millwall,
Lucky or not, it's a goal which could be very important for the team and, hopefully, the scorer in the weeks ahead, because this time last year Kenneth Zohore was, occasionally, winning games for us almost single handed. Having shown signs of hitting that sort of form again against Bolton and Middlesbrough, he now has a goal to go with it – if we could see Zohore playing to the standards he did in the first three months of 2017, I reckon we'd have a great chance of making the top two when you also consider how strong the squad is this time around.