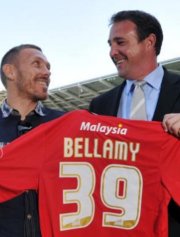 Craig bellamy signed a full time two year contract yesterday and didn't have to wait long before being asked about the colour of the shirt he will be wearing.
"The red shirt is fine," he replied. "I'm sure we would all want Cardiff to stay blue but football changes. As long as there is a Cardiff City Football Club in this city, all will be fine. I would wear pink if I had to. The life and soul of this football club is very important to me. I will be wearing a different colour and that's fine with me."
Bellamy has come home to Cardiff to be with his family after years of being on the road playing at clubs around the country.
"It feels different this time. I am a Cardiff City player," he continued. "Last time I was on loan. Everything was up in the air last time. This is definitely permenant and it will be the last few seasons of my career.
"Brendan Rodgers wanted to give me as much time as possible to change my mind. He spoke to me as soon as he got the job. He saw me as the type of player who would fit into his teams.
"I missed my family at the end of last season. A lot went on off the field that made a huge effect on my life. I wanted to be home and wake up every day with my kids.
"There is more to life than football and it's important to me to be around my wife and kids and play for Cardiff City. I am honoured that the club owners and Malky wanted me here."
Malky Mackay admitted that Mark Hudson will remain captain (last time Craig was here he took over the armband)
"The reason Craig has been allowed to leave Liverpool is on compassionate grounds." Malky explained. "It's rare a situation like that happens. It's rare people make sacrifices like Craig has. Mark Hudson remains club and team captain. Craig will not play against Newcastle because he needs a few days rest after the Oympics and he will be with the Wales squad next week."
Committment
"I have lived away for five or six years and my kids are growing up quick and I felt I was missing a lot of that and I wanted to be part of that." Craig Continued. "To take my kids to school and pick them up is more important. Family should be most important to everyone. I should have paid a little more attention to that in my life.
"I want to try to be the best player I can be and play at the highest level I can. Unfortunately for Cardiff they have been in the lower division but the club is the strongest now it has been in my lifetime. Testing myself at the highest level has been a dream now it is balance I want. I know I have great people around me now and I am coming here a real healthy person."
He also suggested he was not ready to call time on his career with Wales.
"My ambition with Wales is to qualify for a tournament and I would give anything for that for the effect it would have on the nation and because it has been a long time. The Olympics was the most immense feeling of my career," he said.
"There are more important things to me than playing in the Premier League. I want to win every game I play in. Football has taken a lot from me and my family. When we lost to Reading I went missing for two weeks. I couldn't cope. I have had to face up to that and the fact there is more to life.
"Now if it's not going the right way, I won't torture myself or the people who I love the most.
"I haven't thought as far ahead as Cardiff City getting promoted. Every week is a different challenge. I like the team and the work ethic. It's a different one to the one I captained. They all work and are willing to give it their all and not leave anything in their body. I would be proud to be a part of that.
"It is more of a team now. There is also a lot of quality here. Whittingham is an exceptional player and is Mason. Conway I like as well. Whether that will be enough, let's see. I'm not going to put pressure on by saying we have to get promoted. We hope it's enough but if it isn't we'll go again. I want to win games of football.
"Expecting promotion is great. We shouldn't shy away from that. As players, it's up to us to be realistic. The season will balance out and the best three teams will go up. It's proven to be the case every year. If it's not us it won't be the end of the year.
"I was never interested in move anywhere else. The hardest thing for me was leaving Liverpool. I am a Liverpool fan and Kenny was great for me. I am a huge fan of Brendan and I think Liverpool will do great under him. But even that couldn't tempt me. It just wasn't going to happen for me. The supporters at Liverpool have been immense and the way they have been with me about this has been amazing. But my mind was made up. I am doing it for the right reasons.
"I am going to be committed to this. It's a hard job ahead but I am committed."