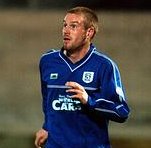 Steve Jenkins is definately ruled out after his concussion on the weekend. Rhys Weston is unlikely to play and probably will not travel to Brentford after hurting his back in the pre match warm up on Saturday.
Gavin Gordon, who broke his nose at Stockport is doubtful. He wants to play but may have to allow his injury to settle down.
If all three are out then it look as if Lennie will recall Spencer Prior and Alan Mahon.
A move back to the lop sided 4 - 4 - 2 is favourite with a prossible line up of
Alexander, Croft, Young, Prior, Barker, Bonner, Kav, Boland, Mahon, Thorne, Earnshaw.
Croft will switch from left back to right back. Barker from central defence to left back with Prior taking up Barkers role. The midfield three of Bonner, Boland and Kav can stay together with Mahon then playing wide left. Thorne and Earnie will be the front pairing.
We are unlikely to get more exact news until Tuesday on the line up.
Subs to inc Margetson, Bowen Legg, Collins.