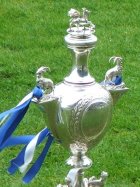 Cardiff, Swansea, Newport, Wrexham, Colwyn Bay and Merthyr Town have this week been invited back into the competition following a 16-year absence due to a rule which was brought in in 1995 to stop any clubs from taking part who compete in the English leagues.
But the latest offer from the Football Association of Wales, and the possibility of a Europa League berth for the winners, would potentially open up a can of worms with ruling bodies such as UEFA regarding the national identity of those clubs taking part in both Welsh and English competitions.
A decision is yet to be made but asked whether the Welsh Cup would appeal to Cardiff, Jones replied: "If at the end of it there`s a European spot, yes. If it`s going to be as it was then no, not for me personally.
"I haven`t spoken to the board or anything but the reason we didn`t play our strongest team in it was because it was extra games and if we picked up injuries then it wasn`t worth it to us.
"If there`s a European spot then I`m sure myself, Brendan (Rodgers, Swansea boss) and the other guys at the other clubs would welcome that news."
Source: PA
Source: PA