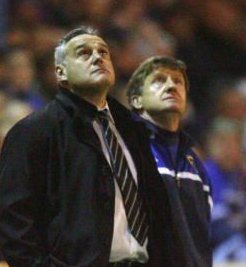 Jones, with assistant Terry Burton, look up to the Gods of football
"As a player I have played in semi-finals, in the FA Cup I lost one to Liverpool," said Dave Jones.
"In other competitions I have got through but in the FA Cup I have got to quarter-finals and semi-finals but never been to an FA Cup final which was a bit disappointing.
"I have played at Wembley on cup final day for Everton veterans against Manchester United veterans so I got a little taste that way.
"This is the furthest I've got and hopefully I can go one step further."
He added: "It's just that this is a cup competition that everybody as a kid dreams about, playing at Wembley in the FA Cup, but we've still got one more stage to get through as we're still in the semi-finals."

Cardiff City's big day out this weekend is the first Wembley trip since 1927. City have had some big games since then, in Europe especially but the chance to reach the FA Cup final must be the biggest challenge of all. For Jones this game is one of the biggest in his career.
"It ranks up there with all the big games that I've had, being promoted, being in semi-finals, being in finals - it ranks up there with all of them," he said.
Should Cardiff City be seen as favourites?
"It's all about the day, who performs and who gets the breaks and hopefully that will be us but it's going to be a great day for everyone associated with this football club," he added.
"They are coming off the back of two fantastic victories against Liverpool and Chelsea, who are in the Champions League.
"I think if you had asked any of the Championship managers would they have taken any one of us to play they would have said 'yes, of course we would have' and Portsmouth were the ones that everyone wanted to miss.
"But the way it's gone this season in cup competitions with the results all three Championship sides have had I don't think we can be fearful of anybody.
"It is a fantastic opportunity for us and we will go into the game full of confidence off the back of some good results of late so it's important we continue that."