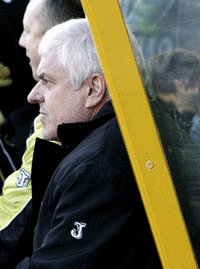 Ridsdale sits on the bench
"It was ironic our fans were not at the ground.
"We chose not to accept any hospitality at all, so our chairman Peter Ridsdale sat in the dug-out with us and he banged his head on the roof when we scored.
"In all my time when I was manager of Wolves and bringing opposition teams to Molineux I have never felt an atmosphere like it - it was dead.
"But we got our just rewards for our fans."

There was concern for Jones when skipper Darren Purse was subbed.

"Losing Darren Purse is a big blow because he is an experienced player and the one who keeps what is a young defensive line together.
"He has damaged discs in his back and it is too early to say how serious the problem is but we will get him off for tests as soon as we can.
"But Darren is a strong character and hopefully the discs can click straight back in."


Mick McCarthy also mentioned the crap atmosphere. He saw his team lose when in his opinion they should have won.

"I feel robbed when I should be waxing lyrical about having scored four or five goals.
"We will never play any better than that but we just have to finish off those chances.
"Craig Davies had a perfectly good goal disallowed for a foul on the goalkeeper, but I did not see a foul.
"And was Michael Chopra offside for the first goal? Was it first phase? Was it second phase?
"I do not know any more because the law of offside is an ass.
"Overall it was a terrific performance from us but the atmosphere was rubbish."