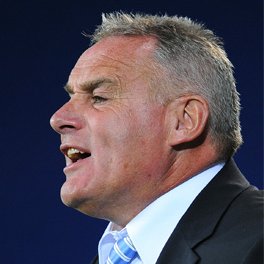 "We were talking about struggling at the start of the season. Relegation, the club was gone," said Dave Jones.
"People have got very short memories. All of a sudden we have gone from relegation candidates to now being promotion candidates and that takes a lot of hard work.
"There's been a steady progress. Everyone thinks we should be 25 points ahead and I'd like that too.
"But this comes from the world class managers and coaches who always seem to be out of work and never in it.
"I'm proud of the players, proud of the club, because of what we are working for. What will be, will be now.
"We've just got to do what we do best and that is try to win football matches. People have got to hold their nerve now.
"We are up there and that is the most important thing now.
"Last season, we were fighting to be in the play-offs, we'd lost the chance to make the automatics at that point.
"We are still in with a chance now, so that means there's been progress.
"Although sometimes that's not enough for certain people. I'd much rather be where we are now than fourth from the bottom fighting relegation."
Derby boss Nigel Clough is hopeful his side will get something from their visit to South Wales.
"It is a nervy time of the season for everyone - at the top and bottom of the league - and if Cardiff are feeling that way on Saturday, we will look to take advantage of it.
"We don't want to give them any impetus that is for sure. But we can't do that by sitting back and defending, because that isn't our nature.
"We have to take the game to them, which is something we always try to do whether we are home or away.
"Our last two results have showed signs that we are coming out of slump we were in.
"The performances weren't always bad when we were losing, some mixed fortune and errors worked against us, but you can see our confidence coming back now."