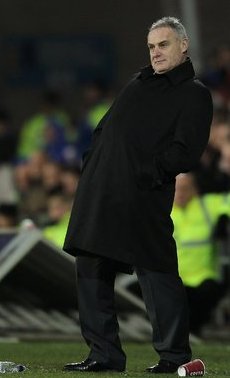 Jones trying not to bend under the pressure
The boss was under pressure afer a poor run and back to back away defeats but his seide delivered for him last night.
Dave Jones said: "It was a strong performance and all wins are good. But we were totally dominant apart from the time they scored their wonder goal.
"I have nothing but admiration for the players who have worked hard despite the illness that has run through the camp.
"Two of the players out there have been ill and we even lost one of the substitutes during the warm-up but the players dug deep and came through.
"We have not been at the races in our last two games and performances were not acceptable but it did not warrant the press speculation as the stories printed should be backed up and checked but they never are.
"All we concentrate on is getting this sort of performance every week.
"We thrashed Leeds away yet they have been on a fantastic run since that game. We have just won one game and must go on to the next and produce the same.
"This is a hard division and there are no easy games but as long as we stay strong we will turn it round and I have never given up on anything."
Disappointed Leeds manager Simon Grayson called for his side to produce another unbeaten run - after their FA Cup third-round tie at Arsenal on Saturday.
Grayson said: "It was a game we got back into after a very quiet start. We wanted to keep the crowd quiet and did that for 10 minutes until they scored. But after equalising we were on top.
"We were still on top when they scored the winner but I'm disappointed we switched off for their first goal and have allowed a long ball to open us up for their winner.
"We have ended our unbeaten run but know we have to start on another in our next match after the cup games against Arsenal. That is a big game for us and everyone wants to play in it. We will go there to enjoy it and see where it takes us."