In a quirk of the fixtures Cardiff, currently third - one point behind Norwich, kick off at 5:15pm in Monday afternoon's live Sky match at the CCS. Victory would see Cardiff move into second place with Norwich having to face Portsmouth at Fratton Park at 7:45pm. That match is also on Sky.
Both sides are jostling for the advantage to take with them in the final fixtures on May 7th. Cardiff are away at Burnley with Norwich at home to Coventry. Realistically I'd expect Cardiff to have to win both games and hope that Norwich slip up and draw one of theirs. That chance, I would think, is more likely to happen on Monday.
Cardiff can take nothing for granted. A defeat at home on Monday could see their promotion hopes end if Norwich go onto win on the South coast. Cardiff must focus and secure three points.
Dave Jones gave his comments ahead of Monday's game.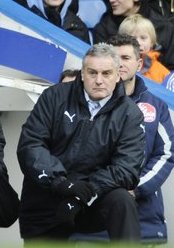 "We're into the last two games – but they are just as important as all the others we've played before them," said Jones, whose team are in action on Monday two-and-a-half hours before second-placed Norwich travel to Portsmouth.
"We are playing catch-up and we're trying to pile the pressure on the teams above us.
"But we are playing before Norwich and the idea is to make sure they know they have to win.
"But the priority has to be for us to win first.
"If we look ahead of ourselves then there is the danger of forgetting what our job is.
"Does us playing earlier put pressure on Norwich?
"Who knows.
"It hasn't with us in the past and whether we win or lose they know they have to win.
"But none of that matters to be frank because we've just got to make sure we get the result we need.
"We have made real progress as a football club over the last five years and that's some achievement for everybody to be proud of.
"But we're trying to take that big step and jumping to the Premier League will always be the biggest step in any club's history when you've not been there before.
"I was at Wolves when we got there for the first time in a long, long time.
"This club was last in the First Division in 1962 and it hasn't been near the Premier League.
"What will be will be, but that is what we're trying to do and do it in the right way with everybody working hard for it."
Cardiff City v Middlesbrough
Monday May 2nd, ko 5:15pm
Live on Sky