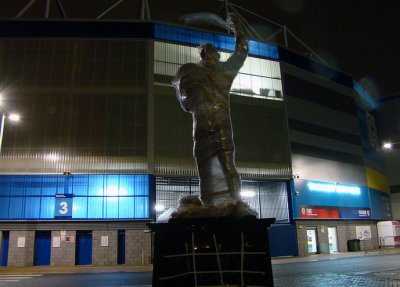 A superb effort from the Cardiff City Supporters' Trust to develop the idea of a statue and deliver the real thing to the grounds of Cardiff City Stadium.
Season after season we visit grounds that have monuments to their heroes. Finney at Preston, Ramsey and Robson at Ipswich, Bremner at Leeds, Wright at Wolves and Shankley at Liverpool.
Now we have our own icon. Fred Keenor holding the FA Cup.
The statue was set in place on Friday afternon and was kept under wraps (right - pic by Jon Candy) ahead of the official unveiling at 1.30pm today before the City v Hull game.
David Craig, project manager of the appeal and a member of Cardiff City Supporters' Trust board, said: "This is a very proud moment for everyone connected with the appeal. We're so grateful for those that have helped turn the dream of a tribute to Fred into a reality.
"Fred was a true working class hero who achieved so much at a time when footballers did not earn the riches of those top modern day players. He had a wonderful career for club and country despite being badly injured in the horrific Battle of the Somme.
"Donations from large organisations were very important to the success of the appeal but the generosity of ordinary fans who got behind the appeal was crucial.
"We received large individual donations of up to £500 and young children even chipped in their pocket money. We'd also like to the staff of Cardiff City for their fantastic support.
"This really was a community-led effort which reached its target despite the very difficult economic times.
"I'd also like to pay tribute to the small band of members of the fundraising committee who gave up many, many hours of their own time to organise events. It was a great team effort."