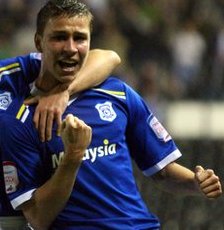 Starting with Filip Kiss. The Slovakian is set to sign a permanent contract with Cardiff City. That has been previously reported but Kiss has spoken this week about the impending move.
"I rate this season as a positive. I learned a lot in it and firmly believe I will stay longer," Kiss said.
"Cardiff are keen to keep me, an agreement with Slovan has been made too, so now we have to wait for it to be sealed once the transfer market opens.
"I hope there won't be any problem then."
The Slovakia Under 21 captain's season has been plagued with injury but he has featured heavily from the bench and feels he is getting back to full strength.
"I'm glad that I was able to appear even if it wasn't from the start. I feel very good health wise and in recent months I was in full training," Kiss added.
Meanwhile Aron Gunnarsson has been linked with Spanish side Seville. Translated from Spanish the news report read:
In his first season as Cardiff City footballer, Icelandic Aron Einar Gunnarsson has been able to accumulate 50 games, a statistic which speaks loud and clear, its solvency and regularity and that, surely, has been determinant for its entry in the agenda of an important Spanish team.
And that, according to Cadena Ser, Seville has decided to include the Nordic International (26 matches) between players that could be part of the project planning to the entity to deal with the year 2012-2013.
After spending almost on tiptoe by the set of AZ Alkmaar (only a League match), the promising midfielder (23 years) landed in British football in the summer of 2008 to become one of the basic pieces of the Coventry City squad which has accumulated 121 matches before emigrating to Welsh lands.
Classic midfield of recovery and struggle, Gunnarsson also stands out for its versatility, quality that allows you to function as a right winger.
And one player Cardiff didn't sign was Fleetwood Town's Jamie Vardy. He signed for Leciester this week for approx £1m after reportedly turning down an offer from Cardiff City and Peterborough.