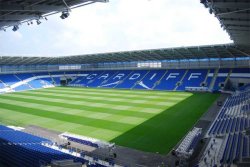 I have now had a brief read through the May 2012 accounts which were available for download when I logged in this morning , and these are some of the key points.

Despite an increase in income for the year to £20.2m (2011 £15.9m) , the annual loss for 2011/12 went up to £13.5m (2011 £12m).

The increase in turnover was due to a £1m increase in gate receipts , £2.4m in extra advertising and sponsorship (inc. £1m in shirt sponsorship from one of VT`s Malaysian businesses) and nearly £1m extra from TV money etc.

The extra £4m in income was more than overturned by big increases in expenditure , the main elements of which were

a) nearly £2m of extra administrative expenses (a rise of over 30%!!) - I dont know why such a big increase as the accounts don`t have to reveal a breakdown of this

b)an exceptional item of £1.6m relating to compensation for the dismissal of Dave Jones and others

c) an increase in interest payable of £1.2m to £3.3m - all related to the interest on the VT loans

d) an increase in cost of sales (mainly the wage bill) of a net £1m. The wage bill actually went up by £3.9m after the exceptional item in b) above , so some other costs in this category must have come down by £2.9m.

As a result of the above losses , the balance sheet position got worse by £13m or so , and the asset and liability position was as follows at 31 May 2012

The main asset in the balance sheet was the stadium at £48.4m. There is a note in the accounts suggesting it was going to be revalued in the current financial year to its "replacement cost" - I presume to give a value increase and help with the Financial Fair Play Rules.

Players were shown at a total value of just £2.3m (so undervalued because of the way clubs value them for accounts purposes).

There was cash at bank of £0.5m and some debts due to the club of £2.2m.

On the liabilities side , there were debts recorded as due and payable before 31 May 2013 of £51.9m and debts recorded as payable after 31 May 2013 of £31.2m.

So total recorded debts of £83.1m , but this actually overstates the reality of the position.

Included in the £51.9m is £37.4m due to VT and associates. If he sticks to his promise to convert this to shares ,then all of this liability disappears.
There is also about £3m relating to the fact that season ticket holders had already paid in advance for the following season - none of this repayable in cash - and £3.6m due to PMG (was £7.7m the year before) which is being paid off in instalments.

Included in the £31.2m is £19.2m due to Langstone (£15m plus 4 years interest at £1m a year)and £9m re stadium naming rights , plus £2.9m due to Player Finance fund (was £3.4m the year before).
There has been much talk of settling the Langstone debt at or around the £10m or £12m mark (including SH suggesting he would accept the latter) , so the £19.2m seems greatly overstated. Also , none of the £9m re naming rights will be paid out of club assets as , to the extent they will ever be paid for , it will be paid by the buyer of those rights , not the club itself.

Player Fund are only paid as and when the club sells a player , and no interest is accruing on the debt. I expect it to be paid off in the Summer , either from selling players we deem not good enough for the Premier or (god forbid) we sell because we don`t get promoted.

So the headline level of £83m of total debts is not as worrying as first seems. At least £16m can be written off the Langstone debt if settled shortly and a further £37m of VT debt should be converted to shares. So the total debts would then come down to £30m from the headline figure.

On a related note , there is provision to pay Langstone a further £5m if the club gets promoted before it has paid off the £15m plus accrued interest figure. So the club can settle the debt before promotion and avoid that further potential liability.

In summary , the loss of £13.5m is worrying in that it shows that the club simply cannot run at Championship level without making a big loss , but the resultant balance sheet position is not as bad as it first appears.

A second worry for me is the big increase in administrative expenses which we were assured would be better controlled and reduced when the new investors came on board.