Camarasa stunner wins it after Etheridge heroics
http://mauveandyellowarmy.net/
When I moved up to Tynewydd from Cardiff just before Easter, I spent the next month bemoaning a dodgy internet connection which meant that I saw very little of the televised away mathes at Sheffield United, Villa and Derby (not that I missed that much really!).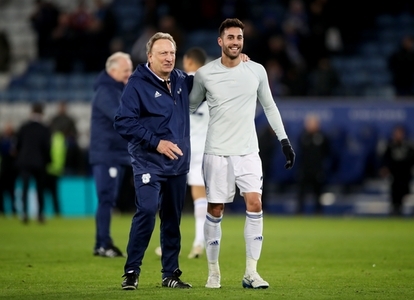 Once it was up and working, my connection, under a new, improved, provider, has proved very reliable until yesterday at least, when the connection grew more and more intermittent. It seemed okay again this morning, but around lunchtime started playing up and, by the time City's game at Leicester was about to kick off, there was no chance of me being able to watch a stream of it.
I decided to ring my provider knowing that, in my previous experience, such calls can drag on for ages and so I may well have being doing myself out of listening to a good portion of the match. That was precisely what happened as the game was into it's second half by the time I got off the phone after being told that the problem looked to be something that would need to be looked into by Openreach – at this time of year especially, this probably means problems with my broadband for the best part of aweek (all of this following on from the news that my shower packed up on Thursday!).
So, this is going to be one of those shorter pieces I have to do from time to time where I know less about what happened during the game than most who get to read it. What I can say is that the twenty five minutes or so that I was able to listen to sounded great as the first thing I learned was that Neil Etheridge (who now looks to be staying here rather than flying out to represent the Philipines in the Asia Cup next month) had just pulled off his third penalty save of the season as he guessed right to save a weak spot kick from James Maddison.
The England squad member had gone down rather easily apparently after being challenged by Sean Morrison and so, maybe, justice was done as Etheridge was helped out by a superb block and clearance from Sol Bamba to make sure Leicester couldn't score from the rebound from our keeper's save.
Judging by what I heard after that, City spent the last twenty minutes or so defending their goal more comfortably than they had done at Selhurst Park on Boxing Day and, for all of the world, it sounded like we would be picking up a second consecutive and creditable goalless away draw, but then Victor Camarasa came along and won the game in added time.
Camarasa's goal is the only thing I've seen from the game up to now and it was good enough to deserve the very excited reaction it got from Rob Phillips on Radio Wales when the ball hit the back of the net.
Over the past month, goals from right footed shots hit with the side of the foot from distance have become something of a speciality at Cardiff City – Junior Hoilett won the November goal of the month award on Match of the Day for his winner against Wolves on the last day of that month yet there are those who say his goal at Watford was an improvement on that one and now Camarasa has come up with one, from neat build up play by sub Bobby Decordova-Reid and Harry Arter, which may be the best of the lot.
What I would say is that today feels like the best day of our season so far. Leicester have been inconsistent at home this season and, seemingly, have something of a tradition of losing to lowly sides in their final game of a calender year, but, having drawn on the ground of a side who were coming off the back of a win over Manchester City, we have now beaten a side who won at Chelsea a week ago and then beat Pep Guardiola's team three days later.
Before Christmas, it was being widely touted that we were unlikely to pick up an away win this season and it was being taken for granted that we would be going down unless we started picking up something on our travels soon – well in the course of two games, we've quintupled our number of away points!
Okay, I know that stat doesn't look quite as impressive when you just say we've gained four points from our last two matches, but it is a statement of intent from a team that spent much of the previous eight weeks or so making a statement that they have it within them to win home matches against sides who are unlikely to get caught up in the relegation struggle this season.
City now have eighteen points from twenty games and so if they can keep on gathering them at a similar rate over the remaining five months of the season are on their way to ending up with thirty four or thirty five points – that's enough to have avoided the drop last season and probably in the one before that – with it being widely predicted that safety could be achieved with lower numbers than that this year, I think it's fair to say we are confounding quite a few critics already.
I'm grateful to the messageboard contributor who posted a link to this piece in which Sky pundits picked their team of 2018. Paul Merson does a prediction column for the Premier League fixtures every weekend and, more often than not, he tips us to lose, but we've obviously made some sort of an impression on him – maybe there is a grudging acceptance among some at least in the media that we have a bit more about us than they thought we did a few months ago.
Truth be told, it's not just the media who have been guilty of underestimating City – many of their supporters have done so as well. I count myself in that number as well – I've said a few times that we look the worst team in the Premier League by quite a distance when we have an off day and I think my concern about the manner of the Watford and Manchester United defeats came through pretty clearly in my reaction pieces for those games.
However, it can be difficult at times to appreciate what your team has going for it – I was guilty of that for much of last season when I was sometimes nonplussed by the fact that we were not just keeping our promotion challemge up in the face of all that pressure from Fulham, we were actually winning the battle for second place.
Because of the way we play, we are not a side that is easy to praise, but we are, undoubtedly, one that is better than they are often given credit for – as 2018 ends, we definitely have a better chance of staying up than a couple of teams in this league and as good a chance as at least two others.