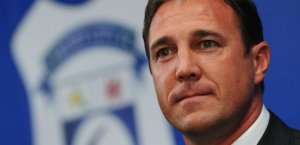 Malky mackay wants his side to go out and try to win tonight for for City boss Eddie May who died on the weekend.
"It will be a nice fond memory that everybody turns up and [we] try and win the game in his name," said Mackay.
"It would be a fitting tribute I think and something his family would appreciate.
"He was someone that our support warmed to greatly in his time at the club," added Mackay.
"I didn't know him personally. Obviously I know his history here. As far as I'm aware they chanted his name an awful lot during games, so you're doing something right.
"Everyone at the club passes on our condolences to his family."
Cardiff are two points ahead of seventh-placed Middlesbrough and Mackay is pleased with his side's current position ahead of the Derby match.
"The fact we're in the play-offs with three games to go is pleasing considering the way the season's gone for a lot of different reasons," said Mackay.
"You've got to be up for the competition, be up for the battle but stay calm enough [so] that this time of the season we can perform to a consistent level.
"Derby are a good team," said Mackay. "They're a team that have hurt plenty of teams this season and at time have been right up there.
"There's very little between teams in this league and Derby are a team like that. We've got a tough game ahead of us on Tuesday night."
Nigel Clough is hoping to see an improvement from his side in Cardiff.
He told the official Derby website: "Cardiff have been a bit of bogey side for us in the last few years, especially away from home.
"We've conceded ten goals in two games at their new stadium so we're looking for an improvement tonight from that point of view.
"We're due a result down there and it would be nice for it to come tonight. If we can perform like we have been doing in recent weeks, we have a good chance of getting something.
"Saturday's 1-0 defeat to Middlesbrough was frustrating so we're pretty keen to get back to not losing matches."
Cardiff City v Derby County.
Cardiff City Stadium
Tuesday April 17th, ko 7:45pm.