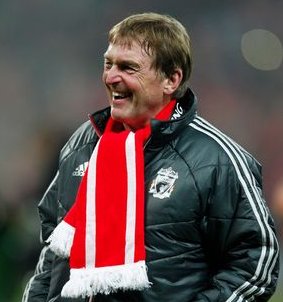 Kenny Dalglish
"Although we have won something, that is not us finished," he said. "We don't want to stop here, we want to keep going. It (Liverpool) means an awful lot to a lot of people.
"All we do is try to make them as happy as we possibly can. Today we have been able to do that. Hopefully it makes up for some of the days when we have not been able to.
"The game had to be settled some way and we feel for Anthony Gerrard, who missed the vital one that meant we won the trophy.
"We are delighted to have won the trophy. Throughout the whole competition, we have deserved it. We have played well and come through some really hard games."
"I don't think anyone who has ever won a trophy has come away from it saying they didn't enjoy it.
"If you do something and you enjoy it, you are going to want more of it. It is logical. The idea six years ago was not to go six years without winning a trophy.
"We are where we are now because of the work everyone has done, not just me.
"The owners, the supporters, the players, everyone has chipped in. "We have said that all along. The closer we are, the stronger we will be together."
Steven Gerrard
"It's always cruel when it comes to penalties, but there has to be a loser.
"It was always going to be that one of us was sad and one celebrating. I've got mixed emotions. Obviously I'm delighted to win the cup for our supporters, but I feel for Anthony and Cardiff.
"It doesn't matter what I say to him - he's going to be down. I'll be there for him and all the family will be behind him."
Jamie Carragher
"We have achieved something but there are two more targets, one of which (the top four) has been made more difficult but other results (on Sunday)," he said, referring to Arsenal's win over Tottenham.
"But we're still in the FA Cup and we want to come back here again, whether that be a semi-final or a final. It would be great to go on and do well in the FA Cup, that is what we want to do."
Dirk Kuyt
"It was incredible, an incredible day," the Dutchman said. "I was very disappointed not to play longer than 15 minutes but I have to put that aside. I'm so happy to have scored the goal.
"The most important thing was we kept believing and in the end I think we deserved this trophy."
"I knew I had to score my penalty or else it was all over and that's what I did.
"I have lots of respect for the manager, the team, the supporters. They deserved more but we wanted this trophy so desperately."
"This is why I came to Anfield," he added. "To finally get my first medal at Wembley is great. Hopefully we can get one more later in the season."
Martin Skrtel
"It was a great game in a beautiful stadium with an unbelievable atmosphere.
"I think we deserved it. It wasn't easy because they equalised with two minutes to go, but we just tried to keep our heads up and we got it on penalties.
"I think everyone plays football for the trophies. This is the first one and I hope there will be more and more."
Daniel Agger
"It was nice to win. It is a long time (without winning a trophy)," said the Denmark international.
"This is what it is all about, it is what we work for every single day.
"It is always sweet, I don't think you can say it is extra-sweet. We are still in the FA Cup, we are pushing in the league as well.
"It is football isn't it? So we have to believe and we still have that and now we have done it we have to push on.
"Every single game is important from now until the end of the season, there is so much to win.
"We still have fourth place to fight for and there are so many big games coming up."