https://mauveandyellowarmy.net/
When you consider that Cardiff City have just started a week which sees them face teams that are twenty fourth, nineteenth and twenty second respectively in the Championship table tonight (they then play the twentieth placed side a few days later), it's little wonder Neil Harris described it as the most important so far during his time at the club.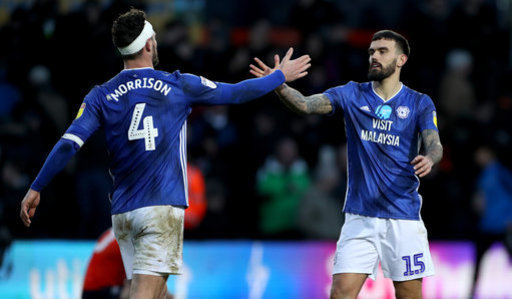 It matters little that three of the four matches are away from home, two of them at the very least (and they'd have to be accompanied by at least one draw) have to be won for any talk of a Play Off challenge to retain some credibility.
Yes, something like a win and two draws will, pretty certainly, allow for ultra optimistic noises about a perfectly timed late surge that will carry us into the top six position that we've not occupied since the August days when tables counted for mouthing to be heard. Honestly though, on what grounds would anyone believe that a team that has perfected the art of drawing over the past few months would suddenly became as proficient at winning?
Truthfully, if the results against Luton, Huddersfield, Wigan and Stoke are on a par with what we've seen since beating Barnsley in early December, then we've got no chance.
That is why today's 1-0 victory at the bottom club Luton was so necessary – even with a performance which their manager said had seen them ride their luck. Indeed, even what could be termed the cheerleading section of the Cardiff City coverers in the media that is the official site commentary section sounded like broken men as the team trudged off the park at half time decidedly lucky that the game remained goalless.
Having watched most of the match up to that point (I had listened to the rest), I was definitely in sympathy with those who want to put a positive spin on things – we were just not quick or strong enough against a side obviously lacking in confidence and momentum. Just as he has done on a few occasions now, our manager was able to turn things around at the interval and, although never hitting any great heights either as a team or individually, we managed to do what we had to.
Anyway, I'm getting a bit ahead of myself here, let's go back to the hour before kick off when the teams were announced.
Was anyone really surprised at the omission of Joel Bagan and Tom Sang, who both made effective and telling contributions in the midweek cup tie with Reading, not being named in the eighteen man squad along with the other Academy members who had been on the bench that night? I wasn't, because I certainly didn't expect any of them to be.
Although it's pretty harsh on Neil Harris to say this, because he looks to be doing more to promote the youth system at Cardiff than our previous three managers (at least!) did, it all had the feeling of "oh well, it's good to get that out of the way, now we can revert to the proper stuff and I don't have to be playing the kids any more." to it.
More pertinently perhaps, there was no Brad Smith and Dion Sanderson there as the two full backs signed on loan in the dying embers of the January transfer window were, seemingly, deemed unworthy of a squad place.
Although the third new arrival, Albert Adomah, was in the starting eleven, the team otherwise had a one step forward and two back look to it as Callum Paterson continued up front ahead of Robert Glatzel and Danny Ward – the fact that Harris is, seemingly, coming around to thinking what Neil Warnock did in that the Scottish play anywhere scrapper we have is a better striking option that the expansive recruits we have from both the continent and abroad.
Whoever was being used up front though, it wouldn't have made much difference in the opening forty five minutes, because, after a misleadingly bright start, City, once again turned in a miserably banal and lacklustre first half showing which saw them lucky to still be on level terms.
With Luton able to exploit huge gaps in our midfield when we were being counter attacked from our own set pieces and our centrebacks struggling to cope with strikers with more pace and technique to them (Curtis Nelson in particular was very error prone and unsure of himself as he played as poorly as he has ever done in a Cardiff shirt) it all had a pretty familiar ring to it, but a look at the league table would tell you that our opponents were unlikely to inflict as much pain on us as others have over recent months.
Home striker Harry Cornick epitomised this failure to take advantage of the chances Cardiff were providing his team with when he, firstly, failed to control a Ryan Tunnicliffe pass which left him free in front of goal just a few yards out and then, seconds later, when he burst past Sean Morrison, complete with old Brighton centrehalf Steve Foster type headband/bandage, to put himself clear down the left, only to fire wastefully across goal.
Cornick's were the clearest two sights of goal Luton had during a dominant last thirty minutes of the first period, but they were by no means, the only ones – Pelly Ruddock-Mpenza volleyed narrowly wide, as did top scorer James Collins.
Quite often, you think that a side has to take full advantage of their dominant spells while they can because things were bound to change soon as their opponents came more into the game, but so abject and lacking in spirit were City at this stage, that it was hard to see how and where that improvement would begin – even the recently inspirational Lee Tomlin was doing very little to raise hopes, while Adomah's first forty five minutes in a Cardiff shirt could, charitably, be described as anonymous.
Recent improvements after painfully poor first halves against Birmingham and Reading (twice) saw the side go more direct, but I wouldn't say that was the case today when I thought, we were our usual mixture of long ball and a desire to play a little more under this manager both sides of the half time break.
For me, what made a difference in the second half was that, almost certainly thanks to our manager getting stuck into the players, we were a lot more willing to press Luton all over the pitch and we were able to show more life and commitment to attack when there was a chance to.
City were helped by Luton's brittle confidence levels and their sudden inability to pass the ball in the manner they did earlier in the game. No one exemplified this more than Chelsea loanee Izzy Brown who, effectively, ran the game early on, yet presented City with the ball so often in the opening fifteen minutes of the second period that, incredibly for someone who had been so influential, he was substituted with more than twenty five minutes to be played.
It was hardly as if City were hitting any of the heights seen at times in Tuesday night's cup replay, more that they were not just presenting the ball straight back to Luton when they had it and, with more possession, defensive minded players felt more able to express themselves going forward.
In the current Cardiff City Championship team, all this really boils down to is that you'll see more of Joe Bennett offering proof that he could be an effective wing back if encouraged. Today's proof of this came when he went flying up on the outside of Josh Murphy (generally speaking, as frustrating and inconclusive as he usually is in unglamorous away fixtures), received the ball from the winger, then got the byeline to put over a cross that the stretching Paterson couldn't quite connect with from about two yards out and was almost turned into his own net by Tottenham loanee Cameron Carter-Vickers.
Paterson was more impressive when he burst on to a testing Murphy long pass, harried Matty Pearson into an error and tried to lob the ball over the onrushing Simon Sluga, only for the Croatian international to save impressively as he thrust out a hand to divert the Scot's attempt away.
With Luton's inability to keep clean sheets (only one at home all season) and the growing feeling that this was a match that would be decided by a single goal, there were definite reasons for City to believe they could nick the win they needed and, on seventy three minutes, they duly did that – or, to be more precise, their obvious player of the season 19/20 did!
Lee Tomlin has now scored seven times this season with nearly all of them classics of their kind – today's effort would not get in my Tomlin top three for this season, but, then again, I can't think of another City player who could have scored it, but, if there is one, he wouldn't have made it all look as simple as Tomlin did!
Regular readers on here will probably have read something by me on here where I admit that I came to the conclusion that I was not good enough to become a professional footballer quite early in life (I was about ten).
In fact, I was nowhere near good enough, but what I did have was a bit of football intelligence which led me become a bit better than my level of natural ability entitled me to be. However, this never extended to the notion of letting the ball do the work for you in the manner Tomlin did today. With me, and a great number of much better players than me, it was about taking the ball as early as I could and then thinking about what I should do with it – the notion of letting the ball roll across me so that I was able to take it on into a more advantageous position on my better foot would just not have occurred to me – especially when I was only some twenty yards from goal.
However, that's what Tomlin did and from there, he guided his low shot just out of Stuba's reach to find the bottom corner of the net.
It felt like a matchwinner at the time and, although Alec Smithies caused a late scare when he dropped a pretty tame shot from sub George Moncur, into a dangerous area only to fall on to the ball in the nick of time, that's what it turned out to be as City saw the game out pretty comfortably.
Although there was a measure of encouragement to be taken from a much better second half showing from Adomah, there was nothing in this win to suggest that it will lead to a possible top six finish, except for the win itself – without playing remotely well, City were able to go to a bottom of the table team and get the three points just like a side with their sort of ambitions should do.
Of course, the fact that we're now eighth and within four points of the top six, should not mean that questions as to why something like £100 million spent on new players over the period October 2016 to November 2019 has left us with a squad where the only player with the sort of skills needed to score goals of the type we've seen against Sheffield Wednesday, West Brom, Leeds and Luton is thirty one years old was left out of the side for almost a couple of full seasons!
Away from City, Blaenrhondda were beaten 2-0 at high riding Cardiff Draconians in the Highadmit South Wales Alliance League Premier Division, while Ton Pentre were thumped 4-1 at runaway league leaders Trefelin Boys and Girls Club in Welsh League Division One – Blaenrhondda remain comfortably situated in upper mid table, while Ton should be okay if they maintain their improvement of the last month or two a bit longer.