If you'd have told me that within four weeks of Cardiff City's miserable home loss to QPR that I would talking of routine away wins, I wouldn't have said to your face that you were mad because I'm not that type of person, but I would have thought it! That night as we slipped to our sixth straight loss, it was hard to see where a point was coming from let alone three and there was a sense of inevitability about the winner for the visitors – worse than that, there was a sense of resignation from team and fans after we had slipped behind.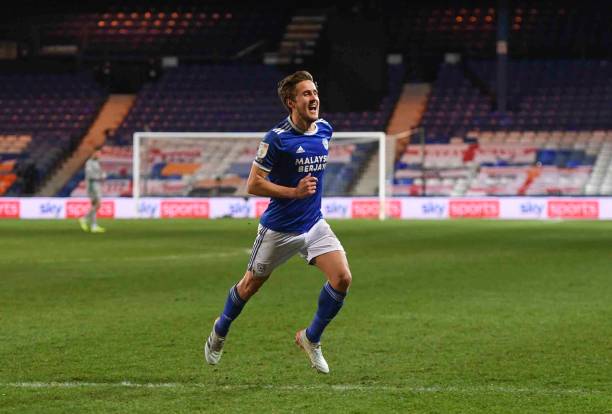 Tonight against a disappointing Luton outfit that I thought looked a better side in losing 4-0 at Cardiff City Stadium in November, City started brightly, but faded as the first half went on and a slow start after the restart had me thinking that the tiredness which was seen on Saturday against Coventry was putting in a reappearance. Then, from nowhere, a stunning shot had us in front and four minutes later a combination of very good technique and a bit of luck saw us double our advantage- after that, there were one or two scary moments, but, generally speaking it was all quite comfortable, a routine win in fact.
City went into the match with the same squad as had faced Coventry save for Alex Smithies making a return from the virus which saw him leave the field very early on in the match at Bristol City. Dillon Phillips had done nothing wrong since then, so retained his place in the starting line up and Smithies replaced George Ratcliffe on the bench.
Luton under Rhondda born former City youngster and supporter Nathan Jones have consolidated in the Championship following last season's late run to safety on the back of some fine form after the first lockdown. This time around, they've sacrificed some of their attacking threat for a great deal more defensive resilience – only twenty three goals scored in twenty nine games now, but just thirty one conceded tells a story of a team for whom, the first goal of the game is usually decisive as Luton have not lost when going 1-0 up, while they had only managed to gain a single point in matches where they've gone 1-0 down.
https://mauveandyellowarmy.net/
A confident City side took the initiative early on perhaps sensing that their opponents would really struggle to come back if they conceded in the first few minutes and there was flurry of the sort of set piece situations that they thrive on. Initially the opportunities were wasted as Harry Wilson's free kick from the corner of the penalty area was hopelessly over hit and went out for a throw in, while one of Will Vaulks' long throws went directly out for a goal kick as he got the direction and trajectory of his delivery completely wrong.
City were more convincing and clever however when Wilson played a short corner to Perry Ng who rolled a further pass into the path of Vaulks whose well struck shot from twenty yards was well saved by Simon Sluga.
Keiffer Moore then missed a decent opportunity after Josh Murphy charged down a clearance and the ball headed towards our top scorer who was stood in glorious isolation inside the penalty area, but it was spinning sharply and it got away from Moore just as he looked on to score his fourteenth goal of the season.
After that, apart from two penalty shouts that were shown to be clear penalties for fouls on Sean Morrison and Murphy which were not given by a referee in Tim Robinson, who gave us very little all night, City looked more likely to concede that all important first goal rather than score it.
Without ever fully taking control of the match, Luton took the initiative and started to force a few attacking dead ball chances of their own.
Phillips was forced to turn a Keirnan Dewsbury-Hall free kick over as the Leicester loanee became more of an influence, but it was striker James Collins who missed the best opportunity for the home team when he headed Tom Lockyer's inviting cross down and then wide from just six yards out.
The early stages of the second half had me thinking that If anyone was going to break the deadlock, it was going to be Luton, because City were increasingly being pushed back. However, on fifty three minutes, the game's first goal arrived and what a goal it was!
Aden Flint was still upfield from a previous dead ball when he nodded down into a central position some thirty yards from goal from where Wilson burst on to the ball and, using Luton captain Sonny Bradley as a kind of marker, guided the ball about a yard wide of him and beyond Sluga into the corner of the net from about twenty five yards out for his first goal since before Christmas.
Although this was another match that Wilson flickered in and out of, it was one which showed that a small contribution from him can be worth far more than a more substantial contribution from others. Within another three minutes, Wilson again picked up a loose ball a bit further out than he had been earlier and tried his luck for a second time. This time Sluga was able to divert the ball over for what looked a fairly routine save on first viewing, but a second look at it showed how much swerve and dip the City man had managed to get on the ball, so a competent save became a very good one.
Not that it did Sluga and his team mates much good though, because, although Luton managed to deal with the initial threat caused by Wilson's corner, the clearing header fell to Vaulks stood in a similar unmarked position as he had been in the first half and this time his shot found the corner of the net from the edge of the penalty area.
The BBC's match report called the goals typically Cardiff and, in so much as they came from a long aerial ball and then a corner, I suppose they were, but that is to disregard the level of skill and good technique involved in both finishes.
From a Luton point of view, I would have thought their manager would be unhappy about the amount of room afforded to Wilson and Vaulks on more than one occasion when it came to the space in front of their defensive line, but both goals still needed a lot of scoring.
In Wilson's case, he's proved on many occasions that he can deliver in such cases, but Vaulks' control of a shot that was awkward to hit because of how high the ball bounced was exemplary, even if it did need the bit of luck given it by a slight deflection off Bradley, and a sign of a confident player whose game has improved a lot in recent weeks.
With Luton's poor goalscoring record and the problems they have when they concede the first goal, they knew they faced a huge task now, but in the time that remained they played a bit better than they had done in the first hour.
Midfield man Pelly Ruddock Mpanzu crashed a well struck effort not far wide and then probably should have done better than dribble another shot wide from around the penalty spot, while Curtis Nelson showed more evidence of his recent improvement as he diverted a shot from sub Harry Cornick wide after the Luton man had taken advantage of a slip by Morrison and cut inside Flint.
City never really threatened another goal apart from when two of their substitutes combined late on when Leanadro Bacuna played in Max Watters, but the new striker was unable to fully control an awkward ball and the chance was gone.
Mention of Bacuna and Watters confirms that Mick McCarthy did what he didn't do on Saturday and made more use of his substitutes as he took the opportunity to give important players a short rest – Watters for Moore and Bacuna for Wilson were predictable changes, but opting for Joel Bagan to come on for Murphy (lively, but not as influential as on Saturday) was a surprise and the young full back did a decent job playing in front of Joe Bennett.
City have therefore closed to within three points of sixth placed Bournemouth who will play their game in hand on us tonight when they entertain a Rotherham side who are probably more of a test away from home than on their own ground at the moment and the Yorkshire side, who I'd say gave McCarthy's Cardiff their toughest test so far last week, are coming off a free weekend following the postponement of their home game with QPR on Saturday.
Cardiff's visit to a Cherries side that have been stuttering a bit of late next week is taking on the mantle of a very important game, but, first, they entertain Preston, another of a large number of teams at all levels of the pro game it seems who prefer playing away than at home when it comes to Covid football, and it needs to be remembered that after we beat Stoke on 8 December to record a fourth successive win and close to within two points of the top six, it all went wrong in spectacular style for us. City seem a happier and more resilient outfit since those days, but, although any talk of relegation should now be banished for the 20/21 campaign, I still feel we are fairly long odds outsiders for a top six finish.
While City's first team have been attracting the attention in the last three weeks or so, recent Tuesday lunchtimes/afternoons have been notable for Cardiff City Under 23 matches at Leckwith that, have invariably offered rich entertainment, stylish football and wins!
In fact, the dramatic improvement in fortunes for the Development team can be traced back to before Christmas when a single, late goal by City young player of the moment, Rubin Colwill (who along with striker Isaak Davies signed a pro contract until 2023 yesterday) decided a hard fought match against QPR.
I may be wrong, but I seem to remember that Rubin came on as a sub that day, so it really does emphasise what a rapid rise it's been for the local boy who has been with the club since he was seven.
Anyway, Colwill played a full part in the run of consecutive home wins in recent weeks which began with a come from behind 2-1 win over Swansea. Next up was a 4-0 win over an Ipswich team that were in second place in the league at the time, then there was a 4-1 win over Colchester seven days ago.
This time around, City faced the team they always draw with, Millwall, who came here with hopes of an end of season Play Off place by finishing in the top two based on a very mean defence for this level that had only been breached eleven times in fourteen games.
Well, we didn't draw with Millwall today – we beat them 3-0 and at half time I found myself wondering if I'd ever seen a City Under 23 team, especially such a young one, play so well.
City's control in those opening forty five minutes was complete – whereas losing opponents tend to get bludgeoned by our first team, this was strangling the life out of a traditionally resolute adversary as they were denied the ball, and therefore hope, by a City team playing with a degree of that very un Cardiff City like word, panache.
At 2-0 down and having had a player sent off, Millwall were looking at a thrashing, but, to their credit, they dug in and gave City a tougher challenge than they had when they had a full allocation of players, but it also needs to be said that, as the pleasant almost spring like conditions of the opening forty five minutes gave way to torrential rain, City's chances of repeating their excellent opening half receded markedly.
The main item of interest in the City selection was the inclusion of Lee Tomlin in what turned out to be a false number nine position as he returned after almost six months out with a groin problem which required surgery. There were also pointers as to selection for the first team match at Luton a few hours later in that George Ratcliffe returned in goal to indicate that Alex Smithies had recovered for his illness that had kept him out of the last two matches, while the absence of Colwill and Davies suggested both would be on the bench for the senior team again.
Tomlin filled the gap left by Davies, while Colwill's replacement was Roland Idowu who certainly put himself about with some very firm challenges, one of which led to Millwall's left back being forced to go off early in the match – Idowu also played as well as I've seen him do for us while he was on.
Another change saw Oli Denham replaced by a trialist who slotted into the three man defence as if he'd been playing for us for all of his life.
Right from the first whistle, City's pass and move football had them in full control – this control never manifested itself in a siege on the Millwall goal and, thinking back, there weren't too many goalmouth incidents, but it was still so impressive as James Waite stood out in the early minutes as a left wing back with an ability to get to the bye line and deliver threatening crosses.
What also helped to make City's showing impressive was the quality of the two goals they scored. I'd rank the first one after thirteen minutes as the better of the pair, but there wasn't much in it. Waite made it with another incision down the left and his cross found Idowu who laid the ball back to Keenan Patten who smashed a first time shot into the roof of the net from around twenty two yards.
Tomlin became more involved as the game went on and set up Waite for a chance that Millwall keeper Gilmore seemed to touch onto an upright from where the ball rebounded to Idowu who saw his close range effort blocked for a corner.
On thirty one minutes it was 2-0 as Tomlin switched a lovely diagonal pass from left to right to find wing back Cameron McWilliams who crossed low to Kieron Evans who showed great composure to sidestep a defender and shoot home from twelve yards.
There was a strange end to the half when Millwall's number six went down off the ball with Tomlin close by – when Tomlin walked towards him, there seemed to be some pushing and shoving between the pair of them, but, after consulting the nearest linesman, the ref took no stronger action than to speak to both players. However, before play could restart, the linesman called the ref towards him and after further consultation a red card was shown to visiting centre forward Alexander who was, as far as I'm aware, twenty yards or so away from the original incident throughout- the only conclusion to be drawn surely was that the sending off was for dissent.
Last week, Colchester had a player sent off inside two minutes and it rather ruined the match as a contest, but this time, City had played their best football already and, if anything, the dismissal appeared to affect them as much as it did their opponents.
Indeed, Millwall were the better side in the early stages of the second half as, maybe fired by a sense of injustice, they took the game to City and caused the under employed Ratcliffe a few anxious moments, but, gradually, the control which had characterised the opening forty five minutes was restored.
City, with Tomlin and Idowu replaced by Dan Griffiths and Taz Mayembe came pretty close to adding to their lead through McWilliams and Waite, but it was in the closing ten minutes as Millwall tired that City stepped up their goal threat, notably when a delightful pass by Sam Bowen put Evans into a similar position from where he had scored, but this time the skillful attacker was disappointed to shoot over.
There was one more goal though as Evans made ground down the left and, once again, when the cross came it was a low one that this time was turned in from six yards by Mayembe.
There were good performances all over the park for City with Bowen and Patten dovetailing well in midfield again, but best player for me today was Keiron Evans with a performance he sustained through the ninety minutes.
Finally, it's now less than a month to the fiftieth anniversary of our win over Real Madrid in the European Cup Winners Cup Quarter Final First Leg in March 1971. To commemorate that anniversary, I've written a book called Real Madrid and all that – details of which can be found below;-