At his pre game meeting with the media before the visit to Luton, Cardiff City manager Steve Morison surprised all present when he went on what he himself called a rant about the way he wanted his team to play – I found it all quite impressive actually.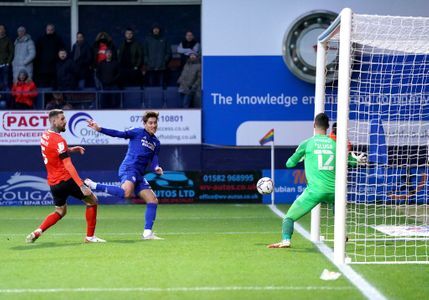 Clearly, Morison is intent on moving away from the sort of approach which has been the norm at Cardiff City Stadium for around a decade and quoted all sorts of stats regarding things like total number of passes, completed passes, entries into the final third etc. etc which proved his point – in truth though, I'm not sure the "rant" was really needed because it's clear from watching the team under Morison that we want to keep the ball more and we're much less likely to just whack it up the pitch and hope for something to happen.
As to what prompted all of this, I'm not really sure. It seemed to be related to the booing that was heard at full time at Wednesday's home match with Hull which greeted what was a frustrating 1-0 defeat by a team that moved above us as a result. However, it's been said by many supporters that the boos were directed at the Hull team for their not very subtle time wasting and at the referee who allowed them to get away with it, not at Morison, his side or their style of play.
There were some boos at half time as well and, if they were directed at the team, I must say I had some sympathy with those responsible, because we were dreadful in that opening forty five minutes.
You only have to read through a few of my reaction pieces over the past few years to learn that I'm right behind what Morison is trying to achieve. I've no problem with him when says he's happy with his side going backwards from an attacking position on one side, then across to the other wing if it means someone like Ryan Giles can get a one on one from which he can use his crossing ability to good effect.
That said, I was still very frustrated at half time on Wednesday because the midfield three Morison had chosen were struggling to pass the ball accurately at a tempo which might result in Giles getting that desired one on one.
Also, I make it that, if you include the Fulham Play Off defeat in 19/20, City have lost seventeen of their last thirty four home league matches. That's an appalling record and, with us not even managing to score in many of the most recent losses, is it any wonder that patience is a bit thinner on the ground among supporters at home games – especially with club record losing runs in terms of overall results and home games having been set this season..
I say all of this just to point out that if Steve Morison thinks it's harsh of supporters to be critical of his team when he's only been in charge for five minutes and his team had won the two matches before Wednesday's, there is a context which needs to borne in mind here. We've been awful to watch at home this season and I think we were again in the first half against Hull.
Anyway, talking of context, that was the backdrop going into today's match which was played in conditions which would have tested the abilities of far more accomplished and established passing sides than Cardiff City as the icy northerly gale which has hit all of the country it seems was blowing straight down the pitch.
Certainly, it seemed to me that the side Morison picked today was better equipped to pass the ball more quickly and successfully than the one he did on Wednesday – Sean Morrison for Aden Flint was probably much of a muchness in terms of playing out from the back, but Ralls, Pack and Colwill looked a far better combination when it came passing the ball than Vaulks, Pack and Bacuna. There was also a change up front with James Collins coming in for Isaak Davies in a horses for courses selection that banked on the Irish striker doing the business on his old stamping ground.
The opening stages were quite cagey with both teams looking to come to terms with the wind as well as each other, but then, out of nowhere, it happened – although very few realised at the time that it had!
What "it" was is scoring a goal in the first half of a league game! Yes, just ten minutes into their twentieth match of the season, City had the ball in the net for a first half goal, or rather they didn't.
What happened was that Joe Ralls did something that none of the starting midfield three on Wednesday would have in that he ran forward with the ball and delivered an early pass into the Luton penalty area. It was so nearly a perfect ball bent into the path of Collins, but it was just too strong for the ex Luton man who retrieved the ball, played it back to Perry Ng and he knocked a good cross over which Colwill headed towards goal on the far post. First of all it looked like home keeper Simon Sluga had made a fine scrambling save to keep the header out, but, after a few seconds delay during which it was hard to tell what was happening, referee Oliver Langford signaled a goal after having received the confirmation that the ball had crossed the line.
Not seeing the net bulge made it all a little anti climactic, but, after 865 minutes of first half action City had finally scored and the honour of getting the elusive goal went to the young player who has become our most effective performer in the old Tomlin/Wilson role.
Times when we can be said to have been in control of a game have been few and far between this season. I can recall much of the match at Blackpool, the second half at Forest and the second half last weekend at Preston, but that's about the lot I think. However, without really looking like we were going to manage a second goal, the first half passed off quite comfortably, therefore it really only had Blackpool as competition for being our best first half of the season.
In fact, despite my earlier comment, we could have gone in two up as, in the dying seconds of the half, Morrison headed our only corner of the game a foot or so wide.
You only had to see the problems Sluga was having trying to get any distance on his kicks to know that City had the elements behind them in the first half and so were far from home and dry with just a single goal lead, but they may have been if they could have taken one of a couple of decent chances they had in a forceful first five minutes after the interval.
The first arrived when Mark McGuinness met a Pack cross firmly but sent it a yard over the bar and then when Colwill seized on a loose clearance by a defender and worked himself into a great position, he didn't strike his shot from ten yards well enough though and Sluga was able to make a comfortable save.
Up to then, all the home side had to offer as an attacking force was a first half free kick from twenty five yards by Kal Naismith that flew well wide, but, with our woeful clean sheets record, they were always likely to find a goal from somewhere and, in the event, it came at the end of a ten minute spell where they had got completely on top.
Luton had been playing poorly for just short of an hour, but, fair play to them, it was as much due to good play on their part as it was to shortcomings on City's that the whole complexion of the game had changed as the match went into its final quarter.
While it was frustrating to see the ball keep on coming back towards City's goal as they gave up possession continuously, Luton were swarming all over them as they sensed a way back into a contest they had been second best in for much of the time.
The influential Naismith tested the City back line with some fine crosses from the left, the first of which was headed just over by Wales defender Tom Lockyer. City were living dangerously and a series of corners forced within a few minutes of each other only added to the feeling that an equaliser was coming.
When it did, Naismith was at the heart of it again with a cross that was a little like the one that Ralls had hit in the build up to Colwill's goal. This time the ball cleared Curtis Nelson's head and found Elijah Adebayo whose pass from close to the bye line was calmly converted by midfielder Jordan Clark from ten yards out.
City were on the ropes now and I'm sure the game would have been lost if it had taken place a few weeks ago, but gradually they were able to stem the flow of pressure they were under by gaining some footholds further up the pitch and this was the prelude to the winner which came in the seventy seventh minute.
McGuinness and Collins played a part with the former winning the ball in midfield and playing the latter into space down the left, the ball was then played back to Ryan Giles who produced what was a peach of a cross even by his high standards, which the unmarked Morrison stooped to head past Sluga from eight yards out.
So the Kings of headed goals came up with two more, but this pair were scored following some good football in open play by City.
Luton could have been level within seconds as Clark shot about a yard wide following another testing Naismith cross, but that was as close as the home side came to finding an equaliser and it was Isaak Davies who came closest after that as Sluga just beat him to a clever Moore pass.
Davies was one of a pair of positive substitutions made by Morison as the Wales Under 21 international replaced Collins some ten minutes after Mark Harris had come on for Colwill.
With Hull and Millwall also winning, the good news was that Peterborough and Barnsley played out a 0-0 draw which means that City have opened up a five point gap now over the bottom three with this third win in their last four matches.
It wasn't perfect by City today, but it was pretty good, in fact I'd up that to very good when I think back to some of the performances during the horror run that was eight straight losses. The conditions tested City's passing to the full and there were times when their limitations were shown, but today we picked what I'd say is the best of the midfield options currently available to us, both of our wing backs did well, Morrison was back to something like his best and we remained pretty calm and generally defended well when it looked like Luton were going to take control.
However, there really is a need to back up an away record which is perfectly reasonable by this division's standards with some home results – I'd be happy with a draw next week when we entertain Sheffield United as a step in the right direction.
Going back twenty four hours, it was a very big day for Welsh football and it really couldn't have gone much better for both men's and women's full international football.
First, Wales were drawn against Austria in their World Cup Play off Semi Final. As the seeded side Wales were always going to be at home in this match against opponents who'd be confident of beating us I'd say, but, for me represent our best bet opportunity of making the final out of the six possible opponents in the draw…
The bonus is that the next draw went kindly for us as well, – if we can get past the Austrians, we'll be at home to either Ukraine or Scotland in the Final.
As for the women, they were 5-0 winners over Greece in their latest qualification group match – the goals were scored by captain Sophie Ingle, Kayleigh Green, Ceri Holland with two and Tash Harding.
Wales have won their three home games so far in their qualifying group by an aggregate score of 16-0. Of course, the three sides they've beaten at home, Kazakhstan, Estonia and Greece, do not represent the elite in the Women's game, but new manager Gemma Grainger has got Wales playing with an attacking freedom that is easy on the eye – a fact backed up by the increase in crowd size for women's football in the country, 4,000 braved the bitter cold at Parc-Y-Scarlets Llanelli on Friday night.
It's gone well up to now for Wales as they sit a couple of points behind a French side that will represent a big step up in class when the teams meet on Tuesday.
Cardiff City under 23 side's record of played nine, won nine has attracted media attention, but the under 18s are also in great form – they won their sixth straight game with a goal aggregate of 27-1 today with another win at Swansea to go with the one they managed earlier this month. That game was in the League, whereas this one is in what is the equivalent of a League Cup I suppose as City took their record in the group they're in to three wins from three following big wins at Bristol City and at home to Watford. The goals were scored today by Japhet Mpadi with two and a Joel Colwill penalty.
https://mauveandyellowarmy.net/