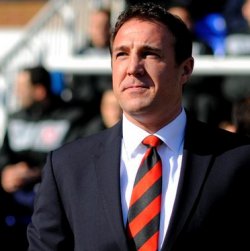 The terms of the agreement are being kept closely guarded but it is understood Mackay was seeking substantial compensation for his dismissal, which came in December after a difference of opinion with owner Vincent Tan about the direction of the club.
Tan has since criticised Mackay's efforts in preparing the side for the Barclays Premier League, but the Scot issued a conciliatory statement through lawyers on Friday in which he apologised "without reservation" to the Malaysian businessman.
Mackay's statement, released through Slater & Gordon Lawyers, read: "Today I have reached a settlement agreement dropping all claims I have made against Cardiff City Football Club

I did not want to be in litigation and believe that it is in the best interests of all parties to have a clean break and move on."
The statement continued: "I have enjoyed my time at Cardiff City and I am most grateful to the board of Cardiff City and Vincent Tan for giving me the opportunity

The club's owner Mr Vincent Tan invested heavily in the club and supported our decisions in our push for promotion to the Premier League

Without him this would not have been possible.
"My thanks to all those at the club and the fans who have supported me during my time in Wales

If I have caused any offence to anyone during this time, especially to Vincent Tan, then I apologise without reservation.
"I wish everyone associated with Cardiff City FC all the best for the future and thank them for their support.
"I will not be commenting further on this matter."
Despite winning promotion last year as second-tier champions, Tan and Mackay clashed over the club's summer recruitment drive, with disagreements over the nature and deployment of the agreed budget.
There was also an ugly episode in October when Mackay's trusted head of recruitment Iain Moody was sacked and the inexperienced Alisher Apsalyamov briefly hired before visa problems struck.
Once Mackay followed Moody out of the door on December 27, Tan was quick to praise his successor Ole Gunnar Solskjaer's methods even though the Bluebirds were ultimately relegated under the Norwegian.
Source : PA
Source: PA