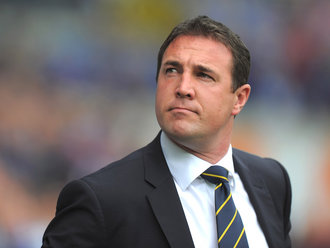 "He (Tony Bates) called me back today and apologised because he's seen it," Mackay told the BBC yesterday.
"He watched it seven or eight times and said there's absolutely nothing wrong with it."
Mackay believes Bates' admission justifies his post-match reaction following a game in which the Bluebirds' Championship play-off bid continued to falter.
In the immediate aftermath of the game Mackay said: "We have seen the goal again and it's a horrendous decision.
"It is the third goal given against us by a linesman [this season].
"The previous two, the League Referees Association have phoned up after we showed them the DVD and admitted the linesman had got it wrong.
"Well they are going to be doing the same again, the minute they get this DVD.
"It was a dreadful decision.
"Sometimes games are won and lost on things like that and Millwall are fighting for the lives - sometimes it comes down to one decision.
"We opened them up on a set-piece, we scored a perfectly good goal and from 50 yards, the linesman has given it as a pull - and when he sees it again he will be absolutely embarrassed at the decision.
"Gunnarsson only has his eyes on the ball and their player pulls him down for [what should have been a] penalty. Everyone has said the same."
Mackay's comments will surely raise some eyebrows at the Football League. It is unusual for a manager to say that referee's are calling up and aplogising.
"It is hugely frustrating," Mackay continued.
"You need it to be a level playing field and it wasn't on the basis of that goal going in and it not being given."