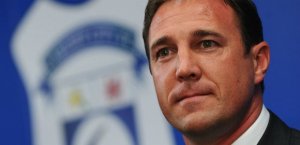 Cardiff City manager Malky Mackay insists his side are not feeling the pressure as they bid to secure a Championship play-off spot.
City face Crystal Palace today knowing a draw will be enough.
Cardiff will miss out if they lose to Palace and Middlesbrough overcome Watford at Vicarage Road.
"We can't control anything that goes on there, so I'm not going to worry about it," said Mackay.
"We look at it like we have done every game we go into, especially recently away from home.
"We want to try to win the game and if you do that you give yourself the best chance I think."
Mackay denies his current squad will lose their nerve against Palace.
"I only control what I can control and I can only speak about Cardiff City from July onwards this season," he said.
"I certainly haven't seen signs of bottlers around the football club.
"I've seen a lot of hard work, seen a lot of people that have got a lot of respect for each other between staff and players, and have worked really hard."
This will be the 4th time the sides have met this season. After the League game at CCS and the two legged Carling Cup semi final.
"We know each other quite well," added Mackay.
"We've had a league game and then we had two great games with them in the semi-finals and I think that provided a lot of entertainment for a lot of people.
"It's a tough place to go, Selhurst Park.
"It's never an easy game there and we know it's going to be a good game."