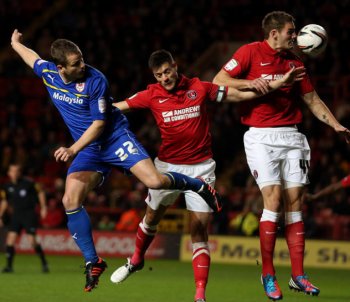 Heidar Helguson and Steve McPhail are the two first team squad members to leave Cardiff City this summer.
A third out of contract player, Kevin McNaughton, has been offered a new deal.
Development professionals Elliott Parish, Nat Jarvis and Jesse Darko have all left after not being offered new contracts.
Development professionals who have been offered new deals are Adedeji Oshilaja and Ronnie Hawkins, while an option has been excercised to retain promising full-back Luke Coulson.
Six youngsters, Dane Griffiths, Gethyn Hill, Kane Owen, David Richards, Theo Wharton and Josh Yorwerth have been offered professional deals after graduating through the Academy while Tommy O'Sullivan has been offered a professional contract despite still having a year left on his apprentice deal.
Those seven players will join the Development squad under the control of Kevin Cooper.
Malky Mackay was full of admiration for Helguson after the Icelander finished the season as City's top scorer.
"He's probably played a lot more than he thought he was going to play"," said Mackay.
"I think with Nicky Maynard being out injured, he's the man that really stepped up to the plate and was that battering ram for us.
"And his overall contribution, not just in goals scored, but it's about the contribution he makes to other people in goals and the front to the team that he is.
"He's absolutely the type of guy I'd fill a club with. I've got great admiration for him and what he's done in his career."
Steve McPhail thinks he should have left City a year earlier,
"I probably should have moved club in the summer last year," said McPhail.
"I was told I would be involved this year and that didn't materialise and that was disappointing.
"I want to be playing and as a footballer you don't want to be sitting on the bench, or sitting in the stand, because you want to be on the pitch and playing.
"It was a disappointing year and probably the worst of my career in terms of playing football, but it was great to see the club do well and progress."
Good luck to all those who are moving on and thanks for your efforts for Cardiff City FC.