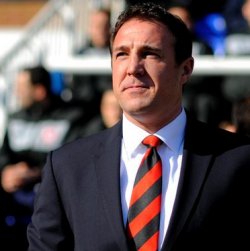 Mackay along with Celtic boss Neil Lennon and Roberto Martinez (who has just won the FA Cup with Wigan) are the three front runners for the managers job at Goodison Park.
Odds keep changing betwen the three of them.
David Moyes will leave Everton at the end of the season to become the new manager of Manchester Utd after Sir Alex Ferguson retires.
Talksport claimed an exclusive on Friday saying
Cardiff manager Malky Mackay has been approached about replacing David Moyes at Everton, talkSPORT understands.
Cardiff Chief Exec Simon Lim, speaking exclusively to Media Wales after meeting with Malky, said in contrast
"We are moving forward with Malky as our manager. We have not had an approach from any club.
"Our meeting lasted several hours, we talked about our plans for next season.
"At no stage did Malky give any indication that he would not be Cardiff City manager going forward.
"We met specifically to discuss next season. We were focused on plans for our football club between today and the start of next season.
"We talked in detail and the meeting lasted several hours. Malky did not give any indication at any stage that things may change."
So the basic message is. Hands off Malky