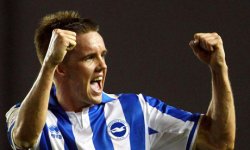 Cardiff initially offered around £500K for Noone but that was rejected. It seems though that Gus Poyet will let him go if the right price is offered and Cardiff's new bid, rumoured to be around £1m, might be enough to seal a deal.
Speaking after Brighton beat Newcastle in the FA Cup this weekend Poyet said "We are ready, because we have been dealing with it for two weeks already. Everybody knows where we stand.
"What we say is everyone has got a price, but it has to be a very good price."
Cardiff will have to move soon if they are to complete any deals. The transfer window closes tomorrow. Malky Mackay admitted earlier this month that he wanted Craig Noone.
City will have further loan options though with the loan window re-opening next week.