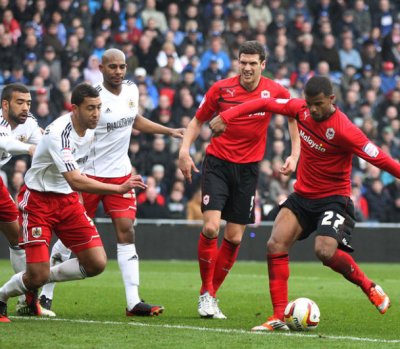 The double strike saw off Bristol City and maintained City's 8 point gap at the top of the Championship and crucially an 11 point gap over 3rd place.
"I am delighted for him, you could see the quality there," Mackay said of Campbell (pictured scoring his 2nd).
"You could see the intelligence, the strength and the link-up play. And for him to get the two goals is obviously really pleasing for him."
Campbell was subbed midway through the second half as the toll of his first start fior the club was beginning to tell.
"We knew he was going to have to come off the pitch, his whole body cramped up in one big go!" Mackay added.
"More than anything I am delighted about the lack of ego about the boy and the way he has thrown himself in to everything that we do here.
"He has bought into it and he has grasped it. I felt it was time to start him and it is about bleeding him in gently.
"He has not played a lot of football in the last few months and we have to treat him properly as he builds up to match fitness.
"I don't doubt the type of footballer we have got, it is about making sure we get him into the team in the correct way."