"It's another point gained for us," Malky Mackay said. "We were playing against a team that is now unbeaten in six at home and they are playing for their management.
"They had a five-man midfield with 10 men defending the final third but we have to get used to that.
"I will always take 0-0 away from home. It keeps us undefeated in a difficult division.
"It was a very tricky pitch, one of the poorest we have played on but it was the same for both teams."
Cardiff defender Kevin McNaughton went off on the stroke of half-time after an accidental elbow left him with a wound which needed stitches.
"It was just unlucky, there was nothing malicious," said Mackay. "He needed a lot of stitches. It was a full-blooded game but hopefully he'll be ok in a couple of days."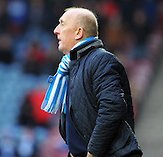 Caretaker manager Mark Lillis praised Huddersfield for their "spirit, endeavour and passion"
"We had 11 captains out there and I am massively proud," he said.
"It was an important point and that's two clean sheets against two top four sides now - Cardiff and Crystal Palace.
"The players have showed great spirit, endeavour and passion and that's what a manager wants to see."
The Terriers have taken four points from three matches since the sacking of Grayson and Lillis added: "The players can't be in a comfort zone.
"I don't know whether I will be in charge for one week, two weeks or three weeks but it's important we get points on the board.
"I will just keep going and say the right things to the right players and every point we pick up helps this club.
"I love to see the players put that commitment in."
Lillis refused to be drawn on whether he wanted the manager's job full-time.
"The chairman and the board are going through an interview process," he said.
"My only previous experience was one Championship game as caretaker at Derby and we just keep going."