"If someone had offered me four points from six over the weekend then I'd have to be happy with that," Mackay said after today's draw.
"On the balance of the game we had two or three chances in the second half and if we had scored to make it 2-0 the game would have been finished.
"We are still in the play-offs with four games to go and we've only had one defeat in nine. I'll take that into the last four games.
"The crowd haven't been on Kenny's back because they have seen the amount of work he has done for the team so it was great to see him score. He attacked the ball well and I'm pleased for him."
On a less positive note for the Bluebirds, winger Craig Conway was taken to hospital for X-rays on an ankle injury after limping off in the 32nd minute following a tackle by Jonathan Hogg.
Mackay said: "We have sent him for an X-ray and we hope he has not broken his ankle.
"I thought it was an appalling and horrendous challenge. It was a scissors tackle. I can't understand the referee's decision on it. It was a sending-off for me.
"I'm disappointed for Craig because he started the game really well. He was having a good go at Carl Dickinson and was looking good."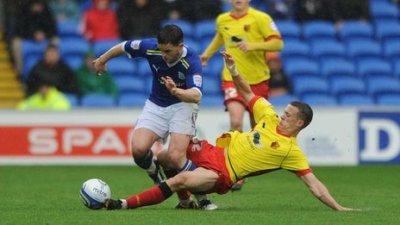 Watford manager Sean Dyche said: "Once we settled into the game after an edgy first 15 minutes I thought we were excellent and created enough to actually win the match.
"We used the ball really well and I thought we were unlucky to go 1-0 down before half-time.
"I reminded the lads at half-time to keep believing in what they were doing and that they were good players. We did the basics well against a very experienced Cardiff side and we did that in the second half.
"My players kept believing and that showed immense character.
"It was a tremendous experience for our young lads against a side who are competing for the play-offs. There were a lot of positives for us."