Cardiff City play their final game of 2012 aleady knowing they will top the Championship with at least 50 points whatever the outcome v Millwall.
Cardiff go into Saturday's fixture with a five point cushion over second place after a superb Christmas week so far that has seen wins over promotion chasing rivals Leicester and Crystal Palace.
Millwall are currently in 7th pace and are looking to recover from last weeks shock 2 - 1 home defeat by Barnsley. The Lions did not play on Boxing Day because their fixture at Brighton was brought forward and was played a week earlier.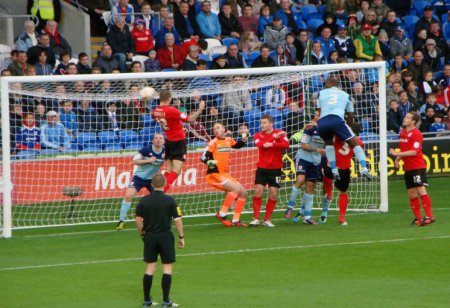 Cardiff have Matt Connolly (pictured above) available after suspension and he is likely to come straight back in to replace Kevin McNaughton. After a poor game against Paterborough SuperKev was back at his best in dealing with Zaha and Bolassie against Palace.
Malky then has to think about making other changes. Does Gunnarsson deserve a start ahead of Mutch. Does Heidar Helguson need a rest and let Gestede play from the start. Can Criag Bellamy start a third game in a week.
Good decisions for the boss to make and unless City have an off day the combinations of players available should prove too strong for Millwall.
"I have an extremely fit squad and players who love playing matches," said Mackay.
"They love that more than warm-downs, training, ice baths and anything else.
"We have had two top-of-the-table matches against Leicester and Palace and Millwall is another one.
"Our medical team will monitor and manage the players and will have them ready for action.
"The staff work closely with and talk to our senior players – including Bellamy and Helguson – all the time and sometimes they have a day off their feet, maybe swimming.
"Every player is assessed regularly and it's about who I think is fresh, ready to play, doing well in training and the game-plan we decide to go with.
"All of it comes into our planning, but the good thing is that we have people snapping at each other's heels."
Millwall expect to be without former Bluebird Andy Keogh is struggling with a broken toe. Loan striker Chris Wood has been recalled by parent club West Brom. Darius Henderson is likely to lead their attack.
Cardiff v Millwall
Saturday 3:00pm.