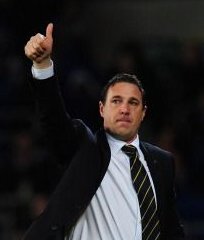 Fans are invited to Cardiff City Stadium to see the team off as they depart at 12:30pm.
The boss hopes that this Sunday will be the one time in ten the underdog wins.
"Our focus is to win the Carling Cup. We are massive underdogs and nine times out of 10 the underdogs are beaten ... but there is the other time as well.
"The players I have are committed, determined and lack ego. They work hard and their focus is the next game ahead of us.
"I would stand shoulder to shoulder with any of my squad every day. They go out to win every game.
"It's terrific for the club, for the city and for the country that we are in the final. A total of 92 clubs started out in this competition and this weekend it is down to just ourselves and Liverpool.
"And we're aiming to win,"
See Malky's interview (below)