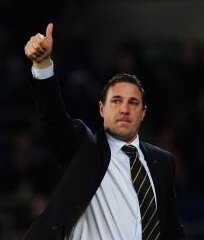 "It was an emotional evening and there were a lot of people here tonight with Gary Speed on their minds," Malky Mackay said after the match.
"The last couple of days have not been easy but our players and staff managed to clear their heads this morning and focus on the game tonight and to go out and put Wales into the semi-finals is another little tribute to Gary."
He added: "I'm very proud of my group - the staff and the players. The way they adapted tonight. After the first 15 or 20 minutes I thought we settled down really well, showed great discipline and certainly the talent showed through.
"It was a lovely finish from Kenny Miller and he was unlucky not to have put us further ahead - he had another good chance late in the half.
"I was delighted with the way we started the second half because sometimes when a club get a break and a breather things can change after half-time.
"But we went out and were fantastic in the transition between defending and attacking. I thought some of our passing was incredible tonight.
"I'm very proud of everyone to get to the semi-finals of the Carling Cup for the first time in 40 odd years, something that everyone at the football club is proud off and an awful lot of hard work has gone into that this year."
And the City boss was confident that the cup run would not have a negative impact on their push for promotion.
"We've had three games so far which have gone to extra time and penalties so far and it hasn't affected us so I'm not worried," he said.
"In fact I think the extra fixtures have helped the team gel better."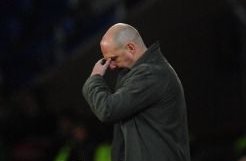 Counterpart Steve Kean is under more pressue after his side were dumped out of the competition. The Blackburn fans were chanting for Kean to be sacked before kick off. The vitriol is not going to go away.
"The side we put out tonight was with one eye on Swansea at the weekend.
"I felt that we started the game very well. I felt the first 15 minutes we had the best two opportunities and then when Cardiff managed to score they had a good period.
"I felt their second goal there was a handball. Maybe it was too close to the referee for him to see it.
"In the second half I felt we had some good half chances, Morten Pedersen should shoot when he chips it to the back post.
"Then we are chasing it a little bit when we sent on Yakubu, Jason Roberts, (Ruben) Rochina late on in the game just to try and mix it up a bit, so we are disappointed not to go through.
"We got a couple of half chances off the back of me throwing Yakubu and Roberts on."
Kean feels his decision will be justified when Swansea visit Ewood Park on Saturday.
He added: "I took the decision to make five changes and on top of that we have (Christopher) Samba and (Martin) Olsson back so we will have seven faces fresh for Swansea.
"Saturday's a massive game for us and a game we need three points from, obviously I've got one eye on it.
"We've some very good games at home coming up, teams that are within touching distance of us and these are our cup finals, the league games coming up are all cup finals."
The Blackburn boss also said he is willing to meet fans who have been calling for his sacking.
"If there is a forum put in place for me to meet the fans and talk about the football side of things then we will do that. I don't know if it's just that. I hear maybe it's the finances and the organisation as well.
"Maybe they need to meet the directors and myself."